How the New Haven Firefighters Ruling Affects Sotomayor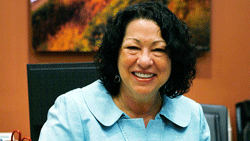 On Slate , Walter Dellinger and Linda Greenhouse agree that Judge Sotomayor has little to fear from today's Supreme Court ruling in favor of the white New Haven firefighters who sued their city when it threw out the results of a test for promotions. Justice Kennedy's majority opinion barely mentions the brief panel opinion Sotomayor signed. Justice Alito's concurrence is a little more critical, but not much. Court observers, including me, will patiently explain that the Supreme Court came up with a whole new rule in its decision today, which it wasn't Sotomayor's job, as a Second Circuit judge, to do. This is how the law is supposed to develop: The lower courts abide by their own precedents, and the Supreme Court's prior rulings, until the high bench tell them to shift course.
But as Linda points out, the right will try to make hay with today's decision anyway. Alito gave them some pretty good lines. He talks about the idea that the white firefighters who sued deserve "sympathy," an idea that is in the opinion Sotomayor signed on to, as well as Justice Ginsburg's dissent today. Then he bristles: "But 'sympathy' is not what petitioners have a right to demand. What they have a right to demand is evenhanded enforcement of the law--of Title VII's prohibition of discrimination based on race. And that is what, until today's decision, has been denied them."
This is a clear retort to Obama's call for judges with empathy. It's also a claim, fair or no, that the white firefighters were denied evenhanded enforcement of the law in the courts below. That will resonate with white people who think applicants of color are taking jobs away from them. Justice Kennedy is solicitious of these people, too. He treats New Haven's decision to throw out the test as a form of "racial preference" and says that "is antithetical to the notion of a workplace where individuals are guaranteed equal opportunity regardless of race." There are good answers for why this mischaracterizes what was at stake in this case. Sotomayor will surely be asked for one at her confirmation hearing. I'm eager to hear what she comes up with.
Photograph of Sonya Sotomayor by Alex Wong/Getty Images.