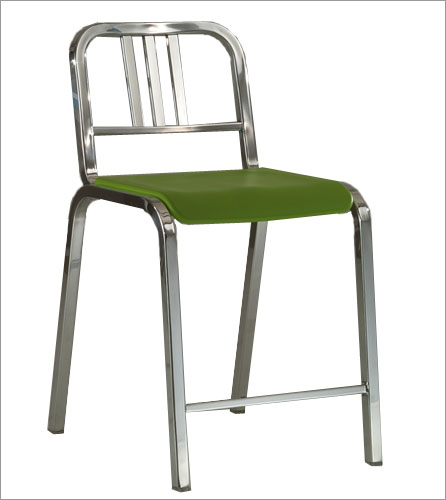 A reader recently e-mailed out of concern for his bedroom: "Is it becoming a chromefest?" I assured him that this was not the case (photos revealed a mahogany dresser and some white lacquer goodness, too), but it got me wondering why metal furniture, especially the polished variety, is a particularly slippery slope when decorating. Metal finishes come in and out of vogue-the current trend for "Industrial Revolution Chic" translates to tons more oxidation and cast iron, dark and hulking table bases with giant casters, and the like. So does slick still do the trick (forgive me for that)? I think so. Let's go mining for style:
Nickel : Noted for its "warmer" feel compared to chrome, all the rage for bath fittings and Restoration Hardware-style etageres . Maybe that's why I associate this finish with the loo. I love a cool nickel desk lamp , but for a coffee or side table, polished nickel just seems a little bouge-y? Perhaps too self-consciously luxe.
Chrome : Nickel's trashy cousin. Brings to mind '50s diners with Cadillac grilles over the door. Quite naturally I'm trying to bring this one back! Mies van der Rohe and Le Corbusier designed all sorts of tubular chrome-framed seating in the first half of the last century, revived in the '70s when Pierre Cardin was making some knockout, Art Deco-inpsired pieces . I could even see these Knoll conference chairs around a sturdy wooden dining table. Chrome has a brightness and clarity that feels very Obama-era.
Brass : Are you picturing condos in Boca Raton with silk flower arrangements? Not so fast! I knew this material was staging a comeback when the Ralph Lauren showroom in the D&D Building (that's "Design and Decoration," not "Dungeons and Dragons") introduced this metal-framed bed in brassy, sassy splendor. "I think it's a little much," said our sweet salesperson. I loved it completely and unironically. Mr. California Michael Taylor was big on brass in the Me Decade, as is Kelly Wearstler right now . Paul Evans' Cityscape collection for Directional has also struck a major chord of late ... maybe the mixing of brass with other metals makes it fresh. A suite of brass-and-glass living room furniture? Not so fresh. But to me a dose of "Boogie Nights" here and there is sexy, not skeevy.
Aluminum : Not all that common except for in these fabulous Emeco chairs (pictured). When polished, aluminum has a kind of Howard Hughes glamour while the satin finish projects military-industrial-complex sobriety . No wonder I prefer the former ... Philippe Starck's also a fan .
Copper : I wish Tom Dixon would come out with a line of furniture to complement his penny-shiny light fixtures . A Parsons table in copper polycarbonate? Amazing. Polished copper next to pale green (the color it turns after oxidizing) is one of my fave color combinations. Has anyone seen copper on modern, non-Mission style pieces?
(FYI I'm leaving out gold because unless you're the Sultan of Brunei, it's gonna be fake, and that doesn't fly with me. Silver merits its own post.)