Documentary "Shouting Fire" Is an Unnuanced Look at Free Speech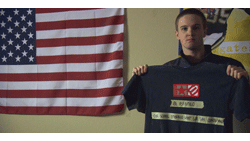 A guest post from Double X intern Meredith Simons:
Liz Garbus, the Oscar-nominated director of The Farm , has a new documentary premiering tonight on HBO called Shouting Fire: Stories from the Edge of Free Speech. Her obsession with free speech is understandable: She was raised by Martin Garbus, a First Amendment attorney who risked the wrath of the federal government with his involvement in the dissemination of the Pentagon Papers in the early '70s. Ultimately he is the center of his daughter's film.

Shouting begins (free speech is "a miracle") and ends ("Don't let the fucking guys win") with quotes from the elder Garbus. His synopses of 20th-century free speech milestones are woven throughout the film and lend context and depth to the 21st-century cases his daughter highlights. These are the "stories" of the film's subtitle, the cases of three individuals and one group who are astonished when their expressions of unpopular opinions leave them jobless, suspended or arrested.

Unfortunately, Garbus presents these stories as though the only thing people need to know is that someone expressed an opinion and was punished for it. Her almost unconditional defense of the individuals whose stories she tells can obscure some of the more tantalizing questions that could be asked about their cases. Should schools be able to ban offensive speech if it could affect another student's learning environment? Is any dismissal precipitated by political wrangling a threat to academic freedom? The speed and ease with which Garbus handles these issues gloss over the difficulties that some of these questions should raise.

But even if Garbus tends to pick sides in free speech controversies, she's not guilty of picking sides when it comes to party politics. One of Shouting Fire 's most touching segments is on Debbie Almontaser, a hijab -wearing Yemen native who conservative WASPs loved to hate when she was trying to launch a dual-language Arabic-English school in New York in 2007. But just as the film starts to feel like another tired diatribe against the evils of Christian conservativism, Gunder turns her camera, and her sympathies, toward Chase Harper, a conservative, white, Christian teen who is suspended when he wears a shirt with a Bible verse and the words "Homosexuality is shameful" to school. Now it's the liberals' turn to get pilloried, as Garbus interviews a young man who earnestly declares that shirts like Harper's should be banned because they contribute to suicides by gay teens.

Both of the Garbuses are pessimistic about the possibility of a flourishing of free speech in the near future. The fear that comes with war and advances in surveillance technology have created a poisonous cocktail of free speech curtailments disguised as security measures, Martin Garbus says near the end of the film. Then he does some gloomy calculations about the ages of John Roberts and Samuel Alito. He concludes that we're stuck with a court that's unlikely to offer much in the way of protection for freedom of expression for at least the next quarter-century.

 

Still from Shouting Fire courtesy of Liz Garbus.