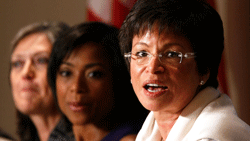 Yesterday, the Obama administration held a roundtable at the White House campus celebrating the 37th aniversary of Title IX. Arne Duncan, Secretary of Education, and Valerie Jarrett, senior adviser to the president, hosted "an all-star line-up of women athletes and scientists," per the White House release. That included Billie Jean King and Dominique Dawes (rapidly becoming an administration favorite), and a slew of representatives from women's groups like the Feminist Majority, NOW, the Women's Sports Foundation, and the National Women's Law Center.

It's not a particularly special birthday, but Title IX, enacted in 1972, and stating, roughly, that whatever the state offers a young man in school it must offer a woman - from locker rooms to centrifuges to fencing teams - "represents a major advance not just for women, but for all Americans and for higher education," said Jarrett, who chairs the recently established White House Council on Women and Girls . Duncan stressed team Obama's committment to slaying "the obstacle of gender discrimination" that persists long after high school. And Jarrett added: "I'm especially proud of our efforts to encourage women to pursue their aspirations in fields in which they have been historically underrepresented such as science and technology."

I naturally cheer this publicity for equal rights-and am glad to see the Council on Women and Girls finally springing into action. It has flown largely under the radar since the splashy March events establishing the office and featuring, again, celebrities both talking about and demonstrating women's empowerment. But I've also been a little suspicious of this office since its establishment: Birthday parties are nice, but where are the tangible benefits or policy supports for female workers, mothers, patients, teachers, students, and consumers? That's not to say there has been no progress. But the council's mandate is to convene all of Obama's cabinet secretaries regularly to discuss elements of support for women at home and abroad-and, three months after the Council was founded, I'm fairly sure the only all-Cabinet meetings to date have been about the budget.
And returning, once more, to the female athlete beat (I totally fished my tennis racket out of storage this weekend), it is interesting that the majority of the women celebrating Title IX were academics, activists, and policymakers-not athletes. Maybe Dara Torres was too busy being totally ripped to swing by the White House, but it is worth noting that these superstars are still hard to come by.
Photograph of Valerie Jarrett (right) and Dominique Dawes (center) by Alex Wong/Getty Images.