"That Whole Sparking Thing"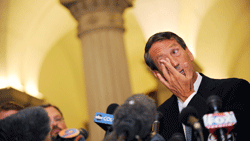 Hanna and Meghan , I guess that's your answer to your debate about the pitfalls of the boring old "companionate marriage." To hear Mark Sanford tell it, one day you're home digging holes in the yard , the next you're talking to some woman "about how she should get back with her husband for her two boys," and then you're swapping emails with her, and then, well ... "that whole sparking thing."
This was truly one of the weirdest orations ever delivered, a sort of free-range ramble about everything from the breathtaking beauty of the Appalachian Trial (where he wasn't) to his "fiduciary responsibilities" to his (apparently companionate) family. Hanna's quite right that everything about the beloved mistress in Buenos Aires screams Passion! Love! Real thing! Yet when he talked about his wife, Jenny, Sanford mainly described her as a faithful workhorse and dutiful former campaign manager. Anyone wondering why Jenny wasn't standing by her man today should probably consider that if he talks about her like she's a sweat sock in public, things can't be all that "sparky" back home.
Photograph of Mark Sanford by Davis Turner/Getty Images.