Quarantine Sweet Quarantine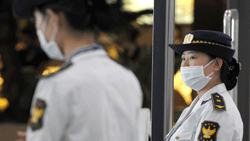 Last Friday, the State Department issued a travel alert for China, citing "random" swine flu quarantine measures and noting that the U.S. Embassy will be "unable to influence the duration of stay in quarantine." Not everyone listened, and among the approximately 200 U.S. citizens currently quarantined in China, you'll find me; my 7-, 5-, and 3- year olds; my mother; and my husband, who-against all odds, according to our docs at home-actually caught it from someone seated behind him on the plane, thus increasing our "duration of stay" from seven days to 10. We flew in on June 17. If all goes well from here, we'll finally see the Great Wall on June 27.
We've been given everything we've asked for. DVD player? Here you go. Internet connection? Done. Chips and candy for the spoiled American children? We have more than we could eat. There's badminton. There's a fountain with koi fish. There is pingpong, or there was, until my youngest son smashed what was apparently the only ball. There are special soft cotton masks for the children to wear in public spaces. There were french fries for breakfast.
But-and this is a big but- we can't leave . That's the thing that tears at my Jeffersonian soul, that has me yowling for my embassy, e-mailing everyone I know and banging my head against the wall. We can't leave until China says we can, no matter what.
I refused to accept it. (I really need to e-mail the embassy person and apologize.) I was infuriated. (Maybe I should send flowers?) I tried to negotiate- couldn't it just be shorter? I bawled. I was warned. I "knew" what we could be getting into-but I just didn't believe, deep down in my soul, that a government could (or would) scoop my family up, put us under guard, and refuse to let us out. I've reached acceptance, helped out by the dwindling number of days ahead of us here. China can quarantine us, and it has. The really galling part: It seems to be working.
Again according to our embassy, 80 percent of H1N1 cases in China are coming from outside its borders. China has reported only 519 confirmed cases as of June 19. Australia, with about 1 billion fewer people, has reported more than 2,000. China's preventative measures are a huge pain in my personal ass and must be costing a fortune, but for now, they seem to be working.
Photograph of Chinese airport security workers by Liu Jin/AFP/Getty Images.