Cry For Me, South Carolina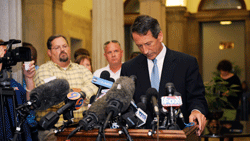 Absent from Gov. Mark Sanford's amazing press conference: His wife, Jenny. Present: A man so utterly in the middle of a self-made disaster that he had to process it in front of us. Could it have possibly been more mortifying? Hanna, you're right, Sanford just couldn't save himself from total mortification even when the press threw him a rope. In the middle of one of the most unfortunate and self-indulgent bits, when Sanford was going on about how he met his "dear dear friend," a reporter tried to ask a question. "Wait, let me finish," the governor said, holding up his hand. Oh no no. He should have gotten down on his knees to thank that reporter for cutting him off. And never, never uttered this made-for-late-night-TV line: "I spent the last five days of my life crying in Argentina."
What a completely bizarre combination of Too Much Information and vague obfuscation. Sanford apologized to an interminable list of people and groups, last and apparently least "people of faith across the nation." This was the confessional version of a bad Oscar speech. Sanford also talked about working with a Christian bible study group called C Street in Washington, D.C., over the past five months. Which he also said is how long his wife has known about his affair. Where did his AWOL trip to Argentina fit into the forgiveness and healing process? Last hurrah? Did he mislead his staff into saying he was hiking on the Appalachian Trail? Was his wife covering for him when she said he was off by himself writing? Or is writing the latest euphemism for having a fling with a South American chiquita?
Photograph of Mark Sanford by Davis Turner/Getty Images.