Ah Nixon, Ever the Charmer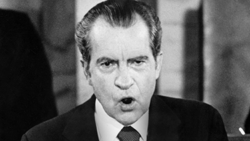 From the AP write-up of the newly released Nixon tapes:
Advertisement

Speaking to Charles Colson after the January 1973 Roe v. Wade decision legalizing abortion, the president said: "I admit, there are times when abortions are necessary, I know that." He gave "a black and a white" as an example.
"Or rape," Colson offered. "Or rape," Nixon agreed.
This a decade and a half after the Supreme Court struck down state bans on interracial marriage in Loving v. Virginia . And 12 years after the birth of Barack Obama.
Photograph of Richard Nixon by AFP/Getty Images.
TODAY IN SLATE
Jurisprudence
Don't Expect Adrian Peterson to Go to Prison
In much of America, beating your children is perfectly legal.
How the Apple Watch Will Annoy Us
A glowing screen attached to someone else's wrist is shinier than all but the blingiest of jewels.