Jon and Kate Gosselin: Separating from Each Other but not Their McMansion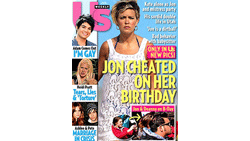 Jon and Kate Gosselin announced their separation on last night's much-hyped episode of Jon and Kate Plus 8 . This surprised no one, as tales of Jon sweatily cavorting with coeds and Kate's utter nastiness have been littering the tabloids for months. What did surprise me is that the Gosselins will be doing what Sandra Tsing Loh is doing with her kids: instead of just having Jon or Kate move out, the couple's 8 children will remain in their Pennsylvania mcmansion , while the parents switch off living there.
In her post describing Tsing Loh's set up, Liza already pointed out the major cracks in this scenario , like what happens if Jon continues seeing that 23-year-old he's been photographed with? Then would it be Jon, Kate, and the Jerk Who Broke Up Mommy and Daddy's Marriage Plus 8 ? Even though we probably won't get to see how this plays out in Tsing Loh's case, it looks like we'll be able to watch what happens with the Gosselin's arrangement almost in real-time. The couple has no plans to stop filming the show.