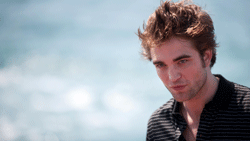 Hey ladies-are you weirded out by the strange sexual power dynamics in Twilight ? So is Buffy the vampire slayer, and she's got something to say about it. Like to hear it? Here it goes.

Jezebel linked to this amazing remix video by Jonathan McIntosh , who edited together scenes from Buffy and Twilight to make it seem like waxy, broody Edward Cullen is trying to put the moves on our favorite demon killer-and she. Is. Not. Amused.

Now, our girl knows from ridiculously good-looking, brooding vampire honeys . So when she tells you that stalking maketh not a courtship, you should listen to her. The awesomeness of this vid helps alleviate some of the sadness I feel about the upcoming Buffy reboot movie , which will feature neither Buffy, nor the Scoobies , nor, it seems, Joss Whedon . At least there's the upcoming animated series to look forward to.
Photograph of Twilight star Robert Pattinson by Martin Bueau/AFP/Getty Images.