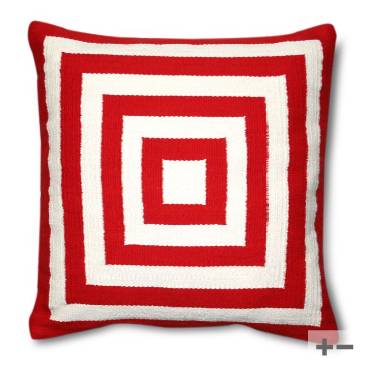 To be perfectly honest, the term "throw pillow" bugs me. I know it's meant to distinguish between the kind you rest your weary head upon and the kind you, uh, throw on your sofa, but doesn't it sound a little preshie-precious? Maybe I'm just a self-hating decorator. Or maybe I'm frustrated because the market is flooded with thousands of pillows in the presh category: too small, too dainty, too stiff, too bland. I want only robust, gutsy pillows in my dream house! And I do care deeply about their guts. Here are some pointers:
Most sofas can accommodate three or more pillows. Depending on the length, I'd start with a pair of squares on either end, no smaller than 16 inches (for a 6-foot sofa), no bigger than 22 inches (for a hulking 8- or 9-footer). An oblong pillow (12x26 or thereabouts) always looks nice in between. Small square or rectangular versions are really only suited to chairs of the same scale where they occupy most of the back.
What goes inside? Please, only down-feather combinations! No Dacron. That's the synthetic plushy stuff that over time will form weird, goider-like shapes or harden into a hockey puck. An 80-20 blend is pretty standard: 80 percent duck/goose feather and 20 percent down feels nice and squishy but maintains its shape. These inserts don't necessarily come cheap, but Ikea offers a nice variety for a fraction of the price. They're a little under-stuffed for my taste but still super comfy.
Fabrics: Pillows are a fantastic way to experiment with color, texture, and pattern. I find that many fabric designs, like animal print and Op Art geometrics, look better in tiny doses than grand gestures, like the fab Jonathan Adler concentric square above ($98 for a 16-incher, a bargain for all that impact). If you're a neutral lover, a pair of pillows in lemon yellow or royal purple is a means of wading into the color ocean before committing to an entire chair, sofa, or rug. In terms of texture one should mix it up: Velvet pillows tend to die on a velvet sofa. I'm a big fan of dressing up a plain cotton Ikea sofa with solid-color, shiny silk satin or taffeta squares-again, expensive fabrics go a long way in little bits.
Final note on animal print: Leopard and tiger don't appeal to everyone, but they are NOT necessarily the strip club abomination you see in your nightmares! It all depends on the pattern design and fabric quality-realistic yet stylized prints in silk or cotton velvet, no cheap faux fur. Leopard especially should count as a neutral, and a single kitty cat pillow could turn your entire living room on its nose. In the chicest way possible.