Never Through with Bamboo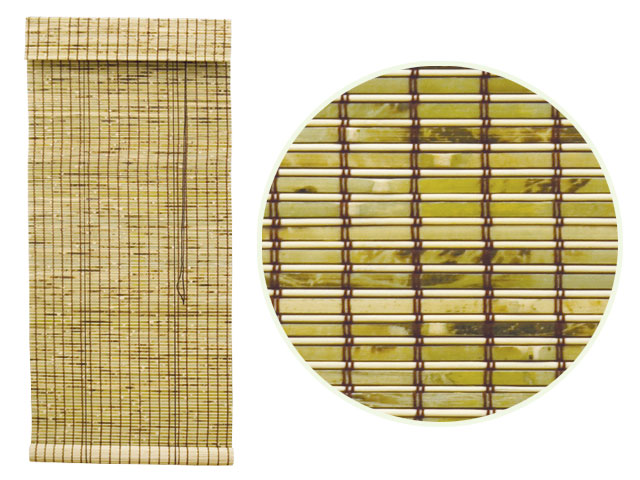 If the eyes are the windows to the soul, then windows are the eyes of your apartment/house/travel trailer. And like your peepers, they need protection. So why are there a zillion pairs of cool, $10 sunglasses and, like, ZERO stylish options for inexpensive blinds? I'll keep moaning about that in a second but first let me address a terminology pet peeve: the expression "window treatments" just makes me cringe! Ditto that for "drapes" and "draperies"-way too 1950s housewife. So can we all vow to stick to "curtains," "blinds" and/or "shades"? THANK YOU.
Back to windows on a budget. I look through every catalog from Ballard Design to Z Gallerie and haven't found anything more basic and stylish than the speckled bamboo blind . Like a Parsons table , they work in every room and with every style. Why? I think it's mostly the natural fiber factor. Metal blinds just scream "Motel 6" (if horizontal) or "beach condo" (the vertical variety). Same for those gauzy accordion shades, which I'm pretty sure are made of polyester or some other fire hazard. Bamboo, like a sisal or seagrass carpet underfoot, adds texture and contrast to painted surfaces (like wood trim or metal windows) and tends to disappear. The blinds look great on their own or under fancier curtain panels.
Caveats? Woven bamboo isn't so stellar at blocking light, but Smith + Noble will fabric-back their flat-fold variety and add a decorative trim ... for additonal dollars, natch. Also the operating mechanism on Pearl River's selection has a Sir Isaac Newton quality, but I have a pair in my bedroom and so far the gravity-n-string combo hasn't failed me. And PR offers a humongous 6-by-7 foot blind for only $52.50 (pictured). Honestly, how can you beat that?