Sunday Morning Coming Down—With Chuck Todd Fever!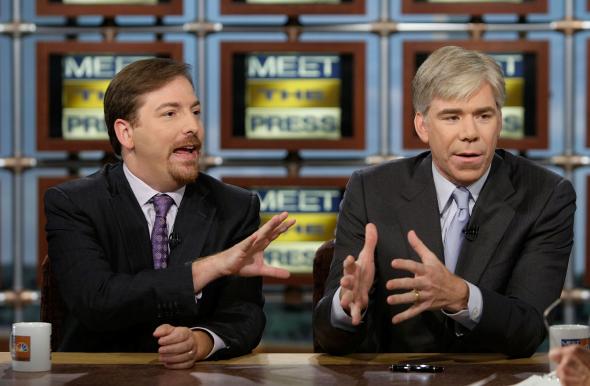 I've spent the day in Rockville, Maryland, covering a trial, but apparently the fetid Beltway below me is talking about this:
Chuck Todd, the NBC News political director and chief White House correspondent, is likely to succeed David Gregory as moderator of "Meet the Press," with the change expected to be announced in coming weeks, top political sources told POLITICO's Mike Allen.
The move is an effort by NBC News President Deborah Turness to restore passion and insider cred to a network treasure that has been adrift since the death of Tim Russert in 2008.
It's been only weeks since Todd made an underwhelmed announcement after I won his show's trivia contest, so you will know I'm being honest when I say: Oh, please, let this happen. Todd is an inconsolable political junkie, who made his bones at the classic Hotline before joining NBC as an analyst, than reporter. That means he never picked up the preening habits that bedevil some TV interviewers. He goes into interviews with unexpected questions, issues a recognizable, bored "OK" when the subject is clearly retreating into talking points, and comes right back with a hard one.
As good as Todd is, I maintain that the "problem with the Sunday shows" is mostly one of format. It used to be that these shows functioned like candidate murder boards, with few commercial breaks and long, sustained grillings of guests. The turn toward short interviews and panel discussions rendered the typical MTP little better than whatever that CNN show with the British guy was called. More long, hard interviews are good for America, which is why this possible Todd promotion would at least dull some of the pain of Bloomberg axing Al Hunt—his show broke news every week.