Democratic Strategist Hired to Boost D.C. Football Team Resigns Under Pressure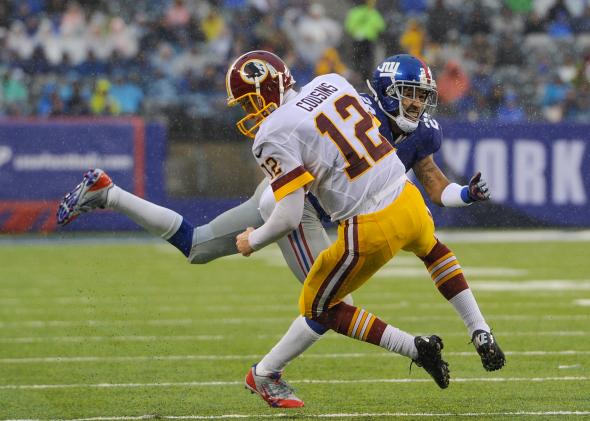 Just two weeks ago, the Virginia Democratic strategist and blogger Ben Tribbett announced that he'd joined the PR department of Washington, D.C.'s football team. One week later, BuzzFeed's Evan McMorris-Santoro stirred the coals, pointing out that Tribbett had played a key role in pushing the "Macada" tape—the video of then-Sen. George Allen pointlessly insulting an Indian-American tracker with an obscure word for "monkey." He's called that racist; he was now making irony-rich defenses of the Washington team's name.
Tonight, quite late on the East Coast, Tribbett made his exit.
Obv. this issue with Redskins is one where I don't see eye to eye with some friends. I just don't agree with the attacks on the team name.

— Ben Tribbett (@notlarrysabato) July 8, 2014
I don't want to be a distraction to the team as the political attacks have shifted towards being personal towards me.

— Ben Tribbett (@notlarrysabato) July 8, 2014
So I'm going to send in my resignation to the Redskins. Hopefully that allows debate to move back to where it should be.

— Ben Tribbett (@notlarrysabato) July 8, 2014
Tribbett's job had become a running and increasingly bitter joke on Virginia's political blogs, helping to restart a debate (which nobody really wanted) about who deserved the credit for "Macaca." A story that had seemed like a weird one-off had, out of the media's scopes, become grinding and irritating. So Tribbett went, his long-lived politics blog already taken over by spammers.
UPDATE: A source points out that Tribbett announced his resignation less than a day after the website Indian Country dug up tweets of his, from 2010, joking about getting the better of an native American who he called "chief" and claimed to have "scalped."
An older native american guy just accused me of cheating and pulled some stuff out of his pocket to put some kind of spell on me. Epic.

— Ben Tribbett (@notlarrysabato) December 21, 2010
Jokes, again, and totally unnoticed until week two of his job with the D.C. team.