Today, in "How to Find the Lede": The Macaca Adventure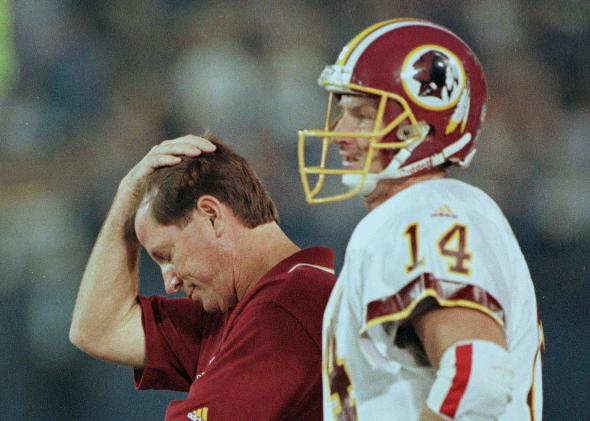 You always hate to miss a story that you could have had. The feeling starts behind the eyes, and sinks into the joints. You thirst for whatever usually cures your pain—morphine, bourbon, a hug from a stuffed animal, maybe more bourbon.
Anyway: Last week, Virginia Democratic political operative and sometime source Ben Tribbett told me he'd signed up with Washington's football team, which according to Slate style and my own Philadelphia loyalty I will not name.* "That's nice," I thought. The news that Tribbett would walk away from full-time Democratic politics (he'd just worked on the runner-up's campaign in the race for Virginia's blue 8th Congressional District) was not closely held, and on June 26 the Washington Post reported that the team had hired "politico Ben Tribbett to help guide defense of team name." It just took a few grafs to get to this factoid:
Hang on—he did? It took a weekend and a day for the great Evan McMorris-Santoro to find the story in this story. Tribbett, who has a long and pugnacious record of speaking his mind on races, had considered "macaca" a horrible slur.
One of the loudest voices insisting the controversial term "macaca" was a racist attack: Tribbett.

"I've been arguing for two weeks on here that Macaca is a racial slur," he wrote in an Aug. 27, 2006 post about a Democratic candidate who he heard "made an offensive joke to a group of Muslims."

"Racial slurs are not funny things to joke about," he added.

Tribbett shut down Not Larry Sabato not long after taking the job with the NFL team. Archived pages show he was dismissive of those who thought Allen's crack was anything other than racially charged.

But Tribbett has been a staunch advocate of the Redskins name for a long time, leading to vigorous debate with followers.
Tribbett wasn't exactly hired to convert lefty sports fans into slur-lovers, and he pronounces himself a little frustrated by the anonymous operatives now criticizing him—he's "fighting ghosts." What we're left with is a funny tale and a great example of why it's worth spending some time to find a lede.
*I'll keep it in quoted material, though.