The Seven Senate Races Democrats Should Be Optimistic About in 2016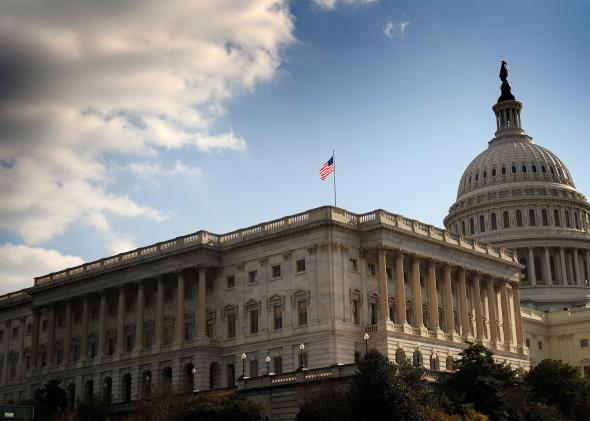 Look, I'm not going to sit here and lie to you. I'm not going to pretend Washington -- by which I mean the journalism/politics/lobbying/evil establishment that's based in the capital -- is at work today. Very, very little is happening in national politics, which is why respectable outlets are running stories like "5 Democrats who should run against Hillary Clinton" and "Sunny job report won't save Democrats." We can't all be Shane Goldmacher, who more or less single-handedly got the House to back off a loosening of an ethics rule.
Bowing to reality, I'd like to summarize something the more realism-minded Democrats have been pointing out to me. The 2014 election map, is, as we've discussed, comically brutal for the president's party. It's basically up to voters in Alaska and Louisiana, voters who went for Mitt Romney in a landslide, to save his final two years from full on Darrell Issa-fication. But the 2016 election map gives Democrats a chance to refight the troublesome 2010 elections, and to do so with Hillary Clinton atop the ballot.
The best case 2014 scenario for Democrats is that they only hold the Senate by one or two votes. (A Republican strategist was telling me yesterday that Republicans would consider 2014 a failure as long as Harry Reid remains majority leader. That means they could win five seats and write it off as a loss.) The worst case scenario? They get wiped out in red states and lose some blue state races, taking them down to maybe 46 seats. Could they come back in 2016? Yes. Here are their best-shot states, ranked from lowest to highest.
6/7. Missouri/New Hampshire. Both of these states were seen as Democratic pick-up opportunities early in 2009; both fell easily to Republicans. But in both states, Democrats have elected broadly popular governors who've run ahead of Obama. Missouri's Jay Nixon (who lost a 1998 Senate race by 9 points) will be finishing a second term, as (probably) will New Hampshire's Maggie Hassan. (She's up again this year but not struggling.) If either are coaxed to run, they make competitive races.
4/5. Kentucky/Florida. Both states are represented by senators with barely-disguised national ambitions. Neither can run for re-election if he runs for the presidency. After Arkansas and Missouri, Kentucky is the state where the Clinton-led ticket is expected to run most strongly ahead of the two doomed Obama-Biden tickets. (This has at least a little to do with race.) It's also one of the last red state redoubts of electable Democrats. If Attorney General Jack Conway or Secretary of State Alison Lundergan Grimes lose races this year and next year (he's running for governor, she's running for Senate), both would be beseeched by Democrats to look at the open Senate seat. Florida's Democratic bench is weaker, funny enough, but the state is trending blue.
3. Wisconsin. First-time candidate Ron Johnson defeated Sen. Russ Feingold easier than anyone not paid by Johnson had thought possible. Feingold left politics, joining the Obama administration to work on African issues. Johnson has established himself as a b.s.-free conservative who refused to engage in shutdown politics and has picked smart fights with the Obama administration. He is, according to reporter Ken Vogel, seen by the Koch network as a model politician. But in 2016 he'll be running in a state likely to break for Hillary Clinton. Feingold could return from the Bush, or Rep. Ron Kind could finally make the statewide run he's been passing on for years.
2. Pennsylvania. Sen. Pat Toomey narrowly lost a 2004 primary to Arlen Specter, spent six years building a political base, then scared Specter out of Republican politics. In November 2010, Toomey narrowly (narrower than polling predicted) triumphed over Democratic Rep. Joe Sestak. This was the recent apogee of the Pennsylvania Republican party; four years later, Republican Gov. Tom Corbett looks certain to lose to challenger Tom Wolf. Democrats are giddy about their chances of winning Pennsylvania with Hillary atop the ticket, and either Sestak or another ambitious Democrat will happily oppose Toomey. In a recent PPP poll, he actually trailed Attorney General Kathleen Kane, who was elected in the surprisingly strong Democratic year of 2012.
1. Illinois. As soon as Barack Obama won the presidency, Illinois's Democratic majority started fumbling away everything they'd done. Gov. Rod Blagojevich immediately plunged in a scheme to basically sell Obama's vacant Senate seat. It ended Blagojevich's career and destroyed Rep. Jesse Jackson, who had big ambitions for statewide office. Like a member of The Who leaving a 1970s hotel room, Blagojevich went out by ruining things for his party, appointing the vainglorious and dim Roland Burris to the Senate seat. That made Rep. Mark Kirk's seemingly impossible job -- winning the president's old Senate seat -- doable. And even then, Kirk only beat scandal-plagued State Treasurer Alexi Giannoulias by 1.9 points, falling short of an outright majority.
In 2011, Kirk survived a stroke that dramatically limited his movement. He's recovered remarkably well, and remained a force in the Senate, a foreign policy hawk who darts to the middle on social issues. But even in December 2013, close to the nadir of the Obamacare debate, pollsters found Kirk in a dead heat with a possible Democratic challenger. In 2016, he will have plenty of money but need to overcome the Democratic vote for Illinois-born Hillary Clinton.
That's the blue optimism side of all this. A pessimist would point out that Nevada Sen. Harry Reid would probably draw a stronger challenger in 2016, and Colorado Sen. Michael Bennet had a hell of a time in 2010.* I'm only describing how Democrats feel -- that 2016 looks like a buffet of exotic desserts, after the leftover Lunchables offered in 2014.
*I also noted that "West Virginia Sen. Joe Manchin might retire," as he's said, but it's been pointed out that Manchin won a special election in 2010 and a full term in 2012. He's not up again until 2018, where Dems will be scrambling to save senators like Claire McCaskill and Joe Donnelly, who won against flawed candidates in red states.