Rep. James Clyburn on "the Case for Reparations"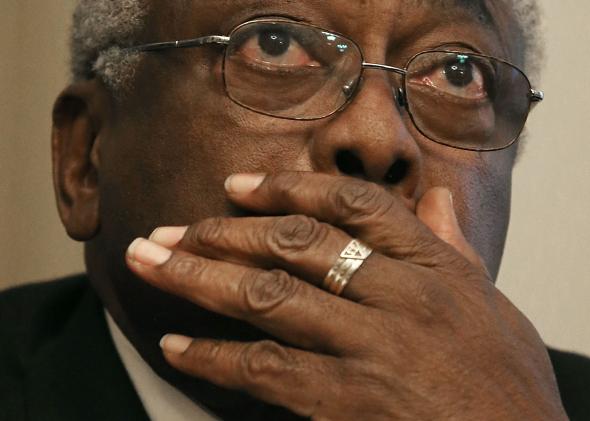 In the latest of my weekly Weigelcast interviews, I talk to Rep. James Clyburn, the highest-ranking African-American in Democratic congressional leadership. The impetus for the interview was Clyburn's new memoir, which covers his life from youth to the civil rights era to the work of a Democratic Congress under the first black president.
But, as always happens, some tape got left on the cutting-room floor. After talking a bit about the legacy of Jim Crow, I asked Clyburn if he'd read Ta-Nehisi Coates' much-praised cover story in the Atlantic, "The Case for Reparations." He was finishing it up, he said.
"Most people are asked this question and get it wrong," said Clyburn. "Most people believe that when the former slaves were granted 40 acres and a mule—most people believe they got it. They never got it. Congress, by law in 1872, made sure they never got 40 acres and a mule. That was a part of reparations, so the country has never committed itself to righting the wrongs committed on the slaves. Some, for whatever reason—and there are various and sundry reasons—were successful. Most of it had to do with who their parents were."
Clyburn told a story as a way of demonstrating the advantages that separated prosperous blacks from the people re-enslaved under Jim Crow. "Robert Smalls, who served here in the Congress for 20 years, was very successful and created great wealth. How'd he do that? For one reason, he stole the USS Planter and delivered it to Union soldiers. He was rewarded financially for having done so, and he built that into significant wealth. There are some who believe he was the son of Peter McGee, the slave master, whose home he was raised in, and that that is why he was granted the opportunity to go to Charleston and work on the docks ... now, the money he made was coming back to Mr. McGee, but he had some experiences that allowed him to navigate the Planter once he stole it. You come to the conclusion that a lot has to do with happenstance of birth."
Was there a new need for a legislative or fiscal remedy? "I've always said that affirmative action was a form of reparations. I've always said that and I believe that. The extent to which the courts have been getting rid of affirmative action was the same reason you had the court in 1872 taking away 40 acres and a mule. There are the forces that line up, get enough votes, and take away these things."