Tom Steyer Spends More Money, Gets Attacked as Radical Puppet Master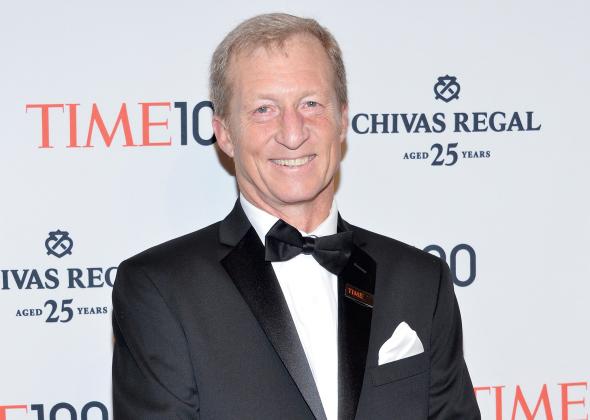 Terri Lynn Land's somewhat overrated Republican Senate bid in Michigan has been at the forefront of Tom Steyer-bashing. Rep. Gary Peters, the Democratic candidate who's recently eked out a small lead, started the campaign by tying Land to the Kochs. Land's campaign called this a dodge—Peters was in hock to "California billionaire Tom Steyer," anyway. And now the campaign has released a Web video, a bit of a message-tester, that links Peters to an Obama environmental agenda (which was never approved) and to "radical billionaire Tom Steyer."
Good timing—Steyer's NextGen has just announced a surge of support for Democrats running in blue states, Michigan included. The Democrats' anti-Koch message, which took years to write and install in media hard drives, has always been that the billionaires' agenda runs the gamut from killing the minimum wage to ending Social Security to personally pouring soot in your water supply. Land's campaign is seeing whether green PAC support can be turned into terrifying energy-tax attacks ... which, like the abolition of Social Security, have a zero percent chance of being passed by a senator next year. (How did Steyer's 2014 money influence Gary Peters' 2009 cap-and-trade vote? I think the answers may be in the new X-Men time-travel film.)
TODAY IN SLATE
Politics
The Democrats' War at Home
How can the president's party defend itself from the president's foreign policy blunders?