"California Billionaire Tom Steyer"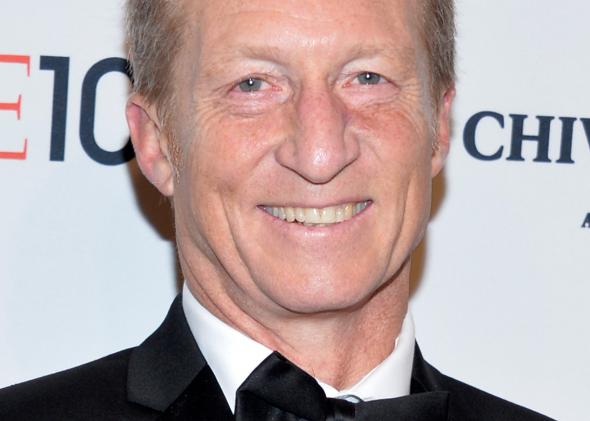 It's been going on for a while, but this boilerplate comment from Terri Lynn Land's Senate campaign, given to Greg Sargent, might be the purest case of Republican projection onto Tom Steyer. Sargent talked to Rep. Gary Peters, the (narrow) Democratic front-runner in the senate race, who suggests that Land's silence on whether climate change is being affected by humans is sponsored by "the Kochs." Land's camp responds:
[S]he does not agree with radical liberals like Tom Steyer and Congressman Peters on the extent of the effect of human behavior on our climate. While Terri continues to focus on jobs, the economy and protecting the Great Lakes, Congressman Peters has instead focused his energy on selling out Michigan workers and adopting the radical agenda of California billionaire Tom Steyer.
Two mentions of Steyer in two sentences, though disappointingly nothing about Keystone XL. The message, one first tested by the Koch-tied American Committment, is catching on. Attack the strength; shame liberals for taking money from Tom Steyer the way they shame you for being connected to the Kochs. The message is given shape in this National Journal piece, which suggests that "some in the party"—everyone from Doug "Obama Shouldn't Run for Re-Election" Schoen to DLC co-founder Will Marshall—are nervous about the Steyer ties.
I've never been convinced that the Koch-demonization strategy even works. Yes, yes, it's not about two brothers per se. It's about portraying Republicans as doing the inequality-widening bidding of unpopular moneyed interests. But insofar as it's effective at all, it's after a full four years of messaging. Republicans are trying to Kochify Tom Steyer in just five or six months.