Primary Night in America: North Carolina! Ohio! (Indiana!)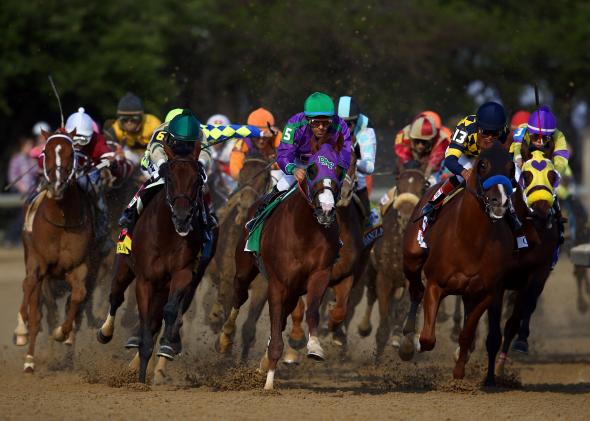 You will read one of only two political headlines tomorrow. Possibility No. 1: "GOP Establishment Fends Off Tea Party Challenges." Possibility No. 2: "Tea Party Forces Runoff in North Carolina." And you'll know what to expect within a few hours of tonight's sundown. Polls close in Indiana at 7 p.m., and they close at 7:30 p.m. in North Carolina and Ohio.
What should you look out for? In Indiana, not much—there are token challenges against some members of Congress, and primaries to determine the token challengers to them in the fall. It may be worth watching the 2nd District to see if Joe Bock, the only credible Democrat, wins the primary to fight for what had been a swing seat. But that's about it.
In Ohio's Republican primaries, freshman Rep. David Joyce is being challenged by conservative legislator Matt Lynch, and someone named "John Boehner" is fighting three Tea Party challengers for the right to renomination in the 8th District.
OH-08: Boehner has a rule about primary challengers. He doesn't learn their names; he pretends, basically, that they do not exist. And it's usually pretty easy for him to get away with it. The semi-pro Tea Party buck-raking industry launched more than one "Defeat Boehner" petition this year, and only the attentive donor noticed that Boehner's most credible-looking challenger was J.D. Winteregg, a teacher who ran this ad.
Yet the ad was a viral hit, then another story altogether: Winteregg claimed to have been fired because of the ad's content. Boehner spent actual money to defend himself. Conservative media outlets went on to claim polls that showed Boehner in danger, or at least hovering around a sad 50 percent of the vote. But they were taken before Boehner agreed to back a select committee to investigate Benghazi. Watch Ohio-08, but expect an early Boehner victory.
I can't tell you what to expect in North Carolina, despite reporting from the state last week. Well ...
U.S. Senate: I can tell you that the official narrative is still that restless conservatives might force a runoff even though state House Speaker Thom Tillis is within reach of winning 40 percent in a primary against Dr. Greg Brannon, pastor Mark Harris, and a smattering of fringe candidates. The final PPP poll put Tillis right at the cusp, with his strongest support coming from the state's major population centers—the Raleigh area (51 percent for Tillis) and the Outer Banks (46 percent). Tillis has polled the weakest, ironically, in his home base of Charlotte. The problem? That's Harris' home base, too, and it's where Rand Paul parachuted in yesterday for a Brannon event.
NC-02: Rep. Renee Ellmers is a favorite of GOP congressional leadership, which is why she's facing a primary challenge from her right, largely over her support for immigration reform. If she survives (as she's expected to, easily), she may face American Idol runner-up Clay Aiken, who made a splashy entry into politics last year. But he needs to beat a "safer" pick, former state Commerce Secretary Keith Crisco. And the seat's been drawn to elect a Republican anyway.
NC-03: The Republican incumbent most likely to lose tonight—he'd be the first scalp of the year—is not some mushy establishment cipher. He's Rep. Walter Jones, an anti-war social conservative and ally of Ron Paul. GOP strategist Taylor Griffin relocated to this Eastern Seaboard district in order to run, and if he can pull it off it'll be with strong wins in the population centers of Craven, Carteret, and Beaufort counties while he keeps from losing Jones' Pitt County by too much.
NC-07: Woody White, an attorney, is the Mike Huckabee-backed outsider candidate. David Rouzer, who narrowly lost a race here in 2012, is the Chamber of Commerce-backed candidate. Not much of a race here in the fall (it was gerrymandered to elect a Republican, 2012 being an outlier year), but an interesting test tonight.
NC-12: Thanks to an endlessly drawn-out confirmation process, the empty seat of Obama administration member Mel Watt will be empty until after the November general election. But it's gerrymandered to elect a black Democrat, and if state Rep. Marcus Brandon makes the runoff tonight, he has a chance to be the first-ever openly gay African-American member of Congress.
North Carolina election results will be here.
UPDATE 7:30: Let's embed my Twitter timeline here and see if that makes things more comprehensible.
And I'll add context here as votes come in.
UPDATE 8:08: It looks quite good for Tillis in the Senate race. He's easily winning rural counties in the western part of the state, where no candidate had a real base. Johnston County, the edge of the research triangle area—and a more conservative chunk of it—is breaking for him over Brannon 43–36. Remember, Brannon's from the area.
In the 3rd District, Taylor Griffin's campaign tells me it's doing extremely well in Craven County but needs to see results from Onslow.
UPDATE 8:40: OK, forget about Marcus Brandon, who is struggling to hold on to fourth place in a race that may not even go to a runoff. And banish from your mind the name of J.D. Winteregg, who lost in the expected landslide to John Boehner.
UPDATE 9:45: The Associated Press has finally called the Senate primary for Thom Tillis; thus begins the general election that Republicans wanted and their backers spent a lot of money to create. The Chamber of Commerce and the much-derided American Crossroads made six- and seven-figure buys in the state to pump up Tillis. (American Crossroads spent $1.6 million, insuring against a runoff that would have cost more.) That was on top of the millions spent by Americans for Prosperity to batter Sen. Kay Hagan and remind voters of the times she told them If They Liked Their Plans, They Could Keep Their Plans.
Still, Tillis is going to end up winning this thing with a plurality of the vote. It's all he needed, but it's a weak showing against a risible field. The fact that Greg Brannon will end up with more than 100,000 votes, and maybe 28 percent of the total, demonstrates that there's a substantial Republican electorate that will vote "hell no" no matter what its choices are. Brannon was a joke of a candidate—a fine ON-GYN, but in politics, he was the sort of guy who calls up the local talk radio host to foam about Agenda 21. I didn't exactly embed with him, but after meeting him briefly at a Liberty PAC (Ron Paul-associated) conference near D.C. last year, I watched the campaign shoo him away from reporters twice. Once at a CPAC fundraiser with Rand Paul (where I was, fair enough, allowed to stay and listen to speeches), and once after the final candidate debate.
In 2010, facing opposition that had cast more offensive-to-the-base votes, a candidate like that could have won. In 2012, when groups like FreedomWorks were raising and spending more effectively, he could have gotten to a runoff. In 2014, with the professional Tea Party organizations floundering a bit and the establishment burning through checkbooks, a campaign like Brannon's was restored to the norm—fringe status.
UPDATE 10:45: It's also over in NC-03—Walter Jones will defeat Taylor Griffin by around 6 points. Griffin's best hope of victory was a win in Onslow County, the location of Camp Lejune. The vote there would determine whether military voters, and people whose jobs relied on the base, would reject the anti-war congressman. But Jones won the county 48–45 over Griffin, and lost narrowly enough in other population centers to hold on.