Watch Rand Paul Screw Things Up for the GOP Establishment in North Carolina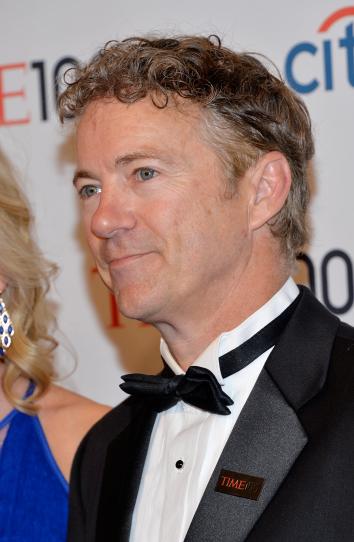 Just after 10 a.m., two hours before Rand Paul was scheduled to appear in Charlotte, Mitt Romney made it official. He was endorsing Thom Tillis, the speaker of North Carolina's House of Representatives, in the GOP primary for U.S. Senate. His endorsement came six days after Gov. Pat McCrory's, and four days after Jeb Bush's.
It didn't seem to matter. After noon, Paul showed up at Charlotte's NASCAR museum to endorse Greg Brannon as "not another rubber stamp, not another go along to get along politician, not another cog in the wheel"—all strange ways to to describe Tillis, who pushed through a generational amount of right-wing legislation last year.
The "establishment" wants the very conservative Tillis to win more than 40 percent of the vote tomorrow and beat a runoff. In the most recent polls, Tillis seems to have escaped the doldrums and surged into the 40s. All that can bring him down is a weak turnout. In PPP's survey, Tillis was scoring 46 percent among "very conservative" voters, but local Tea Party groups have generally endorsed libertarian doctor Greg Brannon, and pastor Mark Harris has hustled hard ever since winning the support of Mike Huckabee.
Then came Paul. He announced his campaign stop—his only one—just as Brannon and Harris finally dumped the money they had on TV ads. The result, in the final PPP poll, was a mini-surge for the challengers, with Brannon only 12 points behind Tillis and Tillis right at 40 percent. Republican strategists are a little surprised to see Paul parachuting into this, because the primary can end in one of three ways.
1) Tillis edges over the 40 percent line and Paul's jaunt doesn't really make an impact.
2) Tillis fails to hit 40 percent and spends six weeks to win an expensive slugfest with Brannon, winning after discrediting him with his own quotes and alienating libertarian voters.
3) Tillis gets into a runoff but loses, in a smaller electorate, to Brannon. The first-time candidate who turns every question (when he takes them) back to the Constitution currently polls well against Sen. Kay Hagan, but Democrats see him as an Akin-in-waiting. There are good reasons why Hagan has been buying ads and sending mailers to convince Republican voters that Tillis is secretly pro-Obamacare because he called it "a good idea" that can't be paid for. When I talked to Tillis last week, the man who personally made sure North Carolina refused the Medicaid expansion and built no state exchange groused that Hagan didn't understand his "sarcasm." (Also, Democrats are a little annoyed that Buzzfeed has been publishing tranches of old Brannon conspiracy quotes—they want to soften up the guy only when it counts.)
It's all pretty frustrating for the Republican establishment, whatever that now is. Over the weekend, before there was any evidence that Tillis could lose, I heard a few strategists explain the befuddlement at Paul's move. He already bristles whenever he's asked about his second-issue associations with neo-confederate shock jocks or paleoconservative think tanks—or the newsletters that appeared under his father's name. Why was he doing a Marvel Team-Up with a candidate who banged on about Agenda 21 and the abortion holocaust? If he's lucky, it won't be an issue until he runs for president. But if an extremely vulnerable Kay Hagan, whom Americans for Prosperity has spent millions of dollars in TV ads against, gets a six-week breather because a fringe candidate forced a runoff?