Rand Paul Will Finally Campaign for the North Carolina Candidate He Endorsed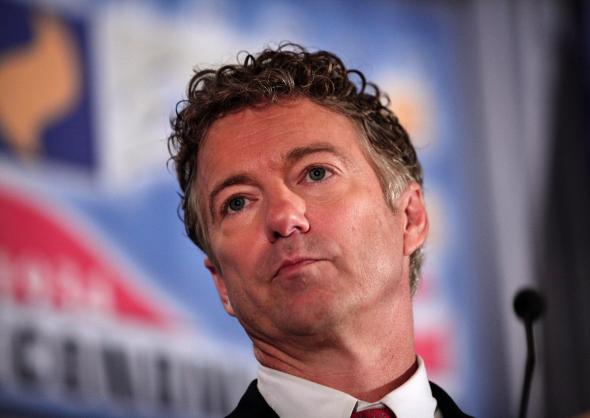 DURHAM, N.C.—Early voting has been underway in this state's primaries for a week now. The election ends on Tuesday. For supporters of conservative Senate candidate Greg Brannon, it's heartening but a little late to see the news that Rand Paul will finally stump for his candidate on Monday.
Looks good on paper. Paul is coming to the Charlotte area, the home turf of front-runner Thom Tillis and of Brannon's rival runoff-hopeful Mark Harris, where the free media will help Brannon. (He lives and works in Cary, in the research triangle.) But it's coming as the Republican establishment stopped pretending it was neutral and started endorsing Tillis. Said establishment was emboldened by polls that have shown Tillis surging above the 40 percent he needs to prevent a runoff.
The most Paul can do now is nudge Brannon's vote high enough to force a runoff that would take six weeks and sap Tillis' funds. It's not quite endorsing against an incumbent, but if it works, it'll send many a GOP flack bitching anonymously about how much money Paul cost them.
But it probably won't work. And it's far less than Paul could have done. He's not scheduled to campaign for Rep. Walter Jones, a stalwart anti-war ally of the Paul family who's fighting off a primary challenge from Republican strategist Taylor Griffin. (Jones' sprawling coastal district is almost as far from Charlotte as Charlotte is from Atlanta.) Paul might end up looking like a good soldier, for a candidate inspired by him and for an establishment that tried to crush that candidacy.
In closing, here's one of Brannon's 30-second ads. It's a little bit obscure, but I think the focus is on Second Amendment rights.