Sarah Palin Endorses Challenger to Anti-War Republican Congressman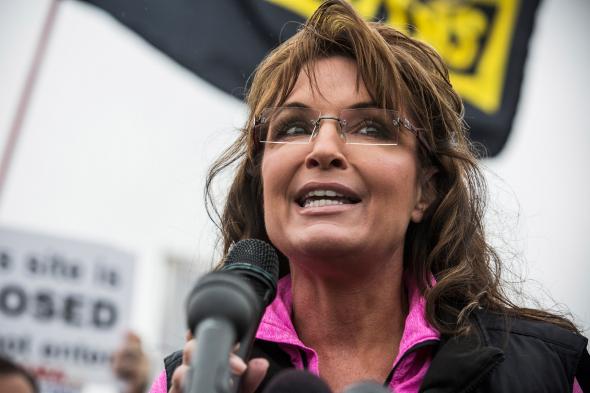 DURHAM, N.C.—One of this year's few endangered Republican incumbents is not a "moderate," or an establishment figure, or a lover of TARP. He's Rep. Walter Jones, a 10-term congressman who turned hard against the Iraq war in 2003 and became a reliable vote against foreign aid, war funding, and basically any deficit spending. He allied with Ron Paul's growing movement, becoming a familiar speaker to Paul-aligned groups like Young Americans for Liberty and allying with the Ron Paul Institute for Peace and Prosperity. But Jones' regular votes against Republican budgets got him booted from committee assigments before the start of the current Congress, which was condemned at the time by Sen. Rand Paul.
This year, though not for the first time, more hawkish conservative donors are trying to oust Jones in a primary. Yesterday, as early voting got underway, they were joined by Sarah Palin, who's living through her umpteenth cycle of stories about whether her influence is spent. (Endorsing a couple of Tea Party challengers who got little help from other national groups did not help her batting average this year.)
"In Washington, we need you to stay true to your beliefs of smaller government, protecting life and furthering conservative principles," wrote Palin in a message to Jones' main challenger, Taylor Griffin. "America needs fighters in Congress -- go to DC remembering the good patriots of Eastern North Carolina who put their trust in you to fight for them."
Palin was amplifying the message that Griffin and some local Tea Parties have homed in on, that by constantly voting against GOP leadership Jones is functionally voting with Democrats.
From the official statement:
New Bern, North Carolina — Taylor Griffin's congressional campaign got a big endorsement today from an old friend. Former Alaska Governor and Republican Vice Presidential nominee Sarah Palin and her husband Todd Palin endorsed Griffin's run for the Republican nomination in North Carolina's 3rd Congressional District. Griffin worked with Gov. Palin and Todd in 2008 during Palin's Vice Presidential campaign.
"I am incredibly honored to receive the endorsement of Governor Sarah and Todd Palin. I consider Governor Palin to be the epitome of a principled conservative and her endorsement reinforces my message that I will give Eastern North Carolina the conservative representation we deserve." Griffin said after receiving the news of the endorsement.
Griffin also added the endorsement carries with it a great responsibility. "When a local veteran or commercial fisherman tell me I have their support, I feel the responsibility to represent them in a manner fitting their trust. I feel the same way about the endorsement of Governor Palin and Todd I can assure them and the people of Eastern North Carolina that my conservative principles will not waiver after I get to Washington."
Griffin wrote Governor Palin and Todd requesting their support for his candidacy:
"I chose to launch my campaign last year because in my time in politics and government I have watched our country, and at times my own party, veer so far off course from the fundamental constitutional values and free market ideals that made our country great. My time working with you and your family in Alaska was one of the most important experiences of my life. Like Alaskans, Eastern North Carolinians believe that the solution to our nations problems lie in its people rather than in ever expanding edicts from Washington."
Palin responded yesterday with the following note:
"Taylor - Thank you for your note and for putting your name on the line to help restore our country. Todd and I are happy to honor your request and support your candidacy. In Washington, we need you to stay true to your beliefs of smaller government, protecting life and furthering conservative principles. America needs fighters in Congress - go to DC remembering the good patriots of Eastern North Carolina who put their trust in you to fight for them. You have our support - we have directed SarahPAC to make a financial contribution to your campaign today. Thank you for your patriotism and commitment to our cause! - Sarah Palin"