After a Mayor's Defeat, Questions About a Scandal's Timing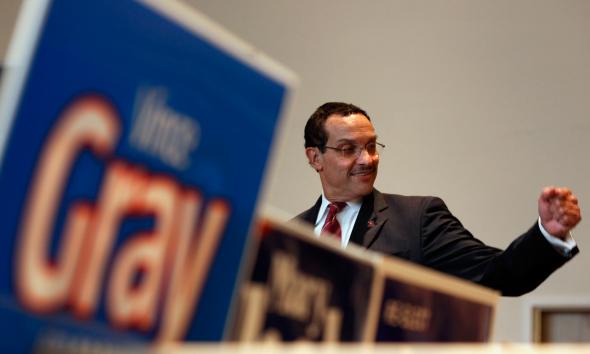 As I wrote in my live thread last night, the victory party-cum-wake for D.C. Mayor Vincent Gray ended with his campaign manager, Chuck Thies, holding court with a group of reporters. He held a Sierra Nevada in one hand and gestured with his other, and asked why U.S. Attorney Ron Machen (an Obama appointee) had revealed the case against Gray's "shadow donor," Jeffrey Thompson, so close to a competitive election. A narrow but persistent lead for Gray, who'd been under a cloud since the first months of his term, became a deficit to Muriel Bowser. In the last days of the election, she consolidated an anti-Gray vote and surged.
"Nothing else mattered," said Thies. "We had a lead. The lead was solid. The base was there ... there was no reason for Ron Machin to roll out that deal on March 10. If Jeffrey Thompson was selling meth to children, the police could have busted in to stop him. But there was no reason to roll that deal out on March 10 except to impact this election."
Unsurprisingly, there was a lot of this talk at the Gray party. More than one person, seeing a badge that identified me as a reporter, told me to look into an obvious story of prosecutorial abuse. Marion Barry said as much in the media interviews he gave as he worked the party. In other cities, even in the old D.C., the impression that investigators had gone overboard to taint a mayor had actually backfired. But that wasn't the case this time.
"Most prosecuters would wait until after the election," said Thies. "Look at the governor of Virginia—the prosecutor waited until the day after the election, and he wasn't even on the ballot."
Thies went on, praising Gray's character, pointing out that there were "no questions about his 2006 race, no questions about this race." Gray struggled to overcome a 2010 scandal, and suddenly it was all voters could talk about. Had the election happened in September, as the 2010 primary had, it might have ended differently. The bitterness is going to linger.