D.C. Mayoral Primary: The Only Live Thread That Matters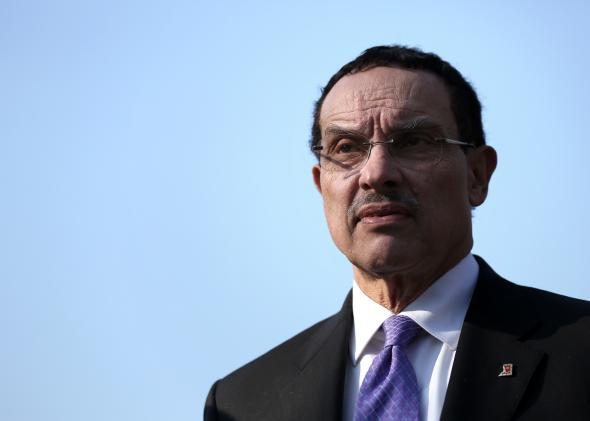 On Tuesday morning, D.C. Mayor Vincent Gray showed up at his home precinct south and east of the Anacostia river. To the amusement of photographers (professional and otherwise), he pulled up the T-Shirt he'd been wearing—blue, white, and red, reading "Vince Gray for Mayor"—to obscure the lettering. This was out of legal necessity. There was no electioneering allowed inside D.C. pollng stations, as I had discovered while idly toting a Gray flier that had been given to me on the way into my booth. (Disclosure: As a registered Republican in D.C., I had literally no competitive primary on my ballot, and ended up writing in the name of former Councilwoman Carol Schwartz for mayor.)
Given that Gray had spent his entire mayoralty under the cloud of a campaign finance scandal—a "shadow campaign" of illegal money for his 2010 run—the extra attention seemed a little bit quaint. In that last run, Gray had crushed incumbent mayor Adrian Fenty. The city's first native-born mayor lost in a near-landslide, having alienated most of the city's powerful labor unions, not least because of the work Schools Chancellor Michelle Rhee had done in her job.* Gray went on to win the general election in a 52-point landslide over the Republicans and a few other fringe parties.
But on Tuesday night, a few weeks after prosecutors revealed the details of "shadow" donor Jeffrey Thompson's work, Gray seemed to be headed to defeat. The mood at his victory party, at a Hyatt near Capitol Hill, was neverthless pretty happy, blithely disconnected from the results. Gray had tried to consolidate support from black voters with a late endorsement from the "mayor for life," Marion Barry. Shortly after 9 p.m., Barry arrived at the party and was rolled over to TV cameras in a wheelchair. "I feel good," he said, "but I've been campaigning all day. I love campaigning. I love shaking hands, kissing babies."
Reporters gathered around Barry as he analyzed a possible Gray defeat. What if the trends held, and Washington Post-endorsed Councilwoman Muriel Bowser defeated Gray?
"Should she win, we're going to be in very serious trouble," said Barry. "We have an $11 billion budget. Muriel Bowser and I are friends. She votes very often with me."
What was the effect of the Jeffrey Thompson revelations?
"It upset all of all us," said Barry. "They waited all this long, three years, to bring no indictment. I believe in America, you are innocent until proven guilty. He waited until three weeks before the election to bring this out—a sweetheart deal. That's not right."
And what did it mean that white voters had fled Gray, who'd presided over four solid years of growth in D.C.?
"The white vote was only 17 percent when Vincent Gray was Mr. Clean," said Barry. "White people, what they perceive as corruption—there is no corruption in D.C. government. The only corruption that may have happened was the shadow campaign. And that's all."
11:20 p.m.: A couple of hours into the count, the slowness of D.C.'s board of elections had become so disgraceful that the Washington Post ran a quickie editorial asking what was possibly the matter. The board claimed that all was well. Reporters, who remembered previous election nights that had ended with plenty of time before the witching hour, did not buy it.
Neither did the crowd at Gray's headquarters, where a few buffets of hot food had already been cleared away. The assumption was that the mayor had been defeated, and the slow count was sparing some temporary pain. Byron Bowder, a 65-year-old consultant, was already musing about a disastrous Muriel Bowser mayoralty.
"I haven't heard a plan from her," he said. "Anyone can shake hands with people, but where's her plan? This is a serious position and she's going to need a lot of guidance if, in the end, she wins it."
I asked Bowder whether Bowser was so objectionable that he might end up backing David Catania, the white former Republican (now independent) already running in the general.
"That may be a situation where I have to support her," he said. "This has always been a Democratic town and it surely can't change at this point. It would be devastating."
11:30 p.m.: Three and a half hours after polls closed, Gray campaign manager Chuck Thies stepped behind a podium to announce ... nothing. Media outlets had been reporting on unreliable numbers. "We're waiting for accurate numbers," he said. "The mayor is having dinner ... we're hanging tight. Hang tight with us."
12:20 a.m.: And just like that, the D.C. board of elections took down its botched numbers, put up new ones, and revealed that Bowser had built an insurmountable lead over Gray. The mayor emerged from a back room, into the hotel ballrom. A swelling crowd applauded for him, as Marion Barry rolled over to talk to the mayor sotto voce. The two men shared words, then Gray took the stage to deliver a free-associating speech in which he never endorsed Muriel Bowser. He congratulated her; he criticized the board of elections over its slow count; but he only hinted at supporting a "candidate" for mayor. His independent city council colleague, David Catania, would remain in the race.
Gray left the stage, and Barry went to work. He was handed a phone with Muriel Bowser on the other line. "Remember me?" asked the mayor for life. When reporters finished with Gray and started talking to Barry, he confirmed that he'd called Bowser and planned to support her. Her odds against Catania? "She'll beat the hell out of him."
12:40 a.m.: Packing up, leaving the ballroom, I snuck into an impromptu dialogue between Thies, Gray's campaign manager, and a group of reporters. Thies was explicit: A consistent polling lead, "solid numbers" in support of Gray, had been collapsed by the March 10 charges against Jeffrey Thompson. His candidate could never recover from a criminal case that was timed for maximum political impact.
"What was so important about March 10?" asked Thies. "Why did that need to happen?"
*The highest Democratic turnout in any recent D.C. mayoral primary came in 1990, when Democrats flooded the polls to replace an arrested and disgraced Marion Barry. The victor of that race, Sharon Pratt Dixon (then Kelly), was an absolute disaster in office, paving the way for Barry's dashiki-clad 1994 comeback.)