Interactive Map Catalogs a History of Collective Violence Against Black Communities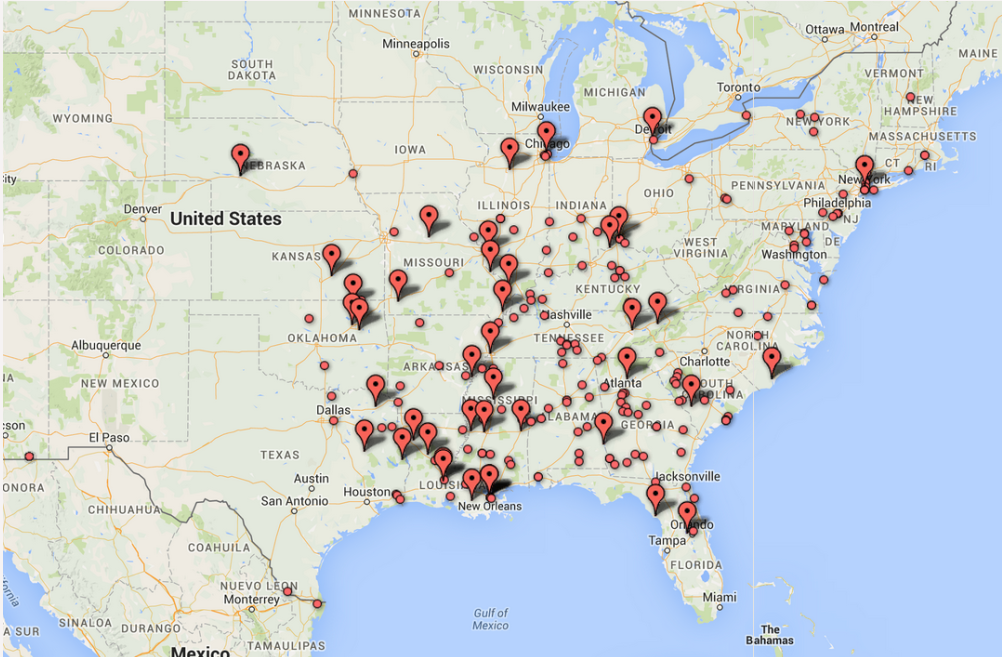 The Vault is Slate's history blog. Like us on Facebook, follow us on Twitter @slatevault, and find us on Tumblr. Find out more about what this space is all about here.
Here's a map put together by historian Liam Hogan, with help from five co-conspirators. Hogan and his group are trying to track past instances of what they call "collective punishment"—racial violence ("mob violence, riots, and pogroms") meant to terrorize black communities.
Importantly, the group distinguishes between lynchings—which a report issued earlier this year by the Equal Justice Initiative cataloged—and these other kinds of violence, even though, as Hogan writes, "lynchings were also a form of racial terrorism against the African American community." (The New York Times mapped the Equal Justice Initiative's numbers here.)
Hogan and his team argue that we should think about the kinds of violent incidents on this map—acts of destruction of people and property with the clear intent to intimidate and punish—alongside the lynching data. The violence memorialized here was often expressly directed toward black schools, churches, and other landmarks. In other instances, whites acted with the intent to deter particular activities, like voting or moving into white neighborhoods.
From the map, I learned about the Noyes Academy riot, in Canaan, New Hampshire, in 1835: "Mob of 500 whites use 95 oxen to tear down integrated abolitionist school." And the Ocoee, Florida, Election Day race riot, in 1920, when black Americans who tried to vote were killed and driven out of town (the toll: 35-plus people killed; 500-plus refugees). And the Pierce City pogrom of 1901, when white residents of the Missouri town seized weapons from a state militia arsenal and violently expelled all of its 300-person black population (while killing three men in retaliation for a supposed rape).
The group of researchers is looking for help in expanding their map. The website includes a contact form where you can suggest incidents to add, or correct any errors you might see.