NBC News Fires Matt Lauer for "Inappropriate Sexual Behavior in the Workplace"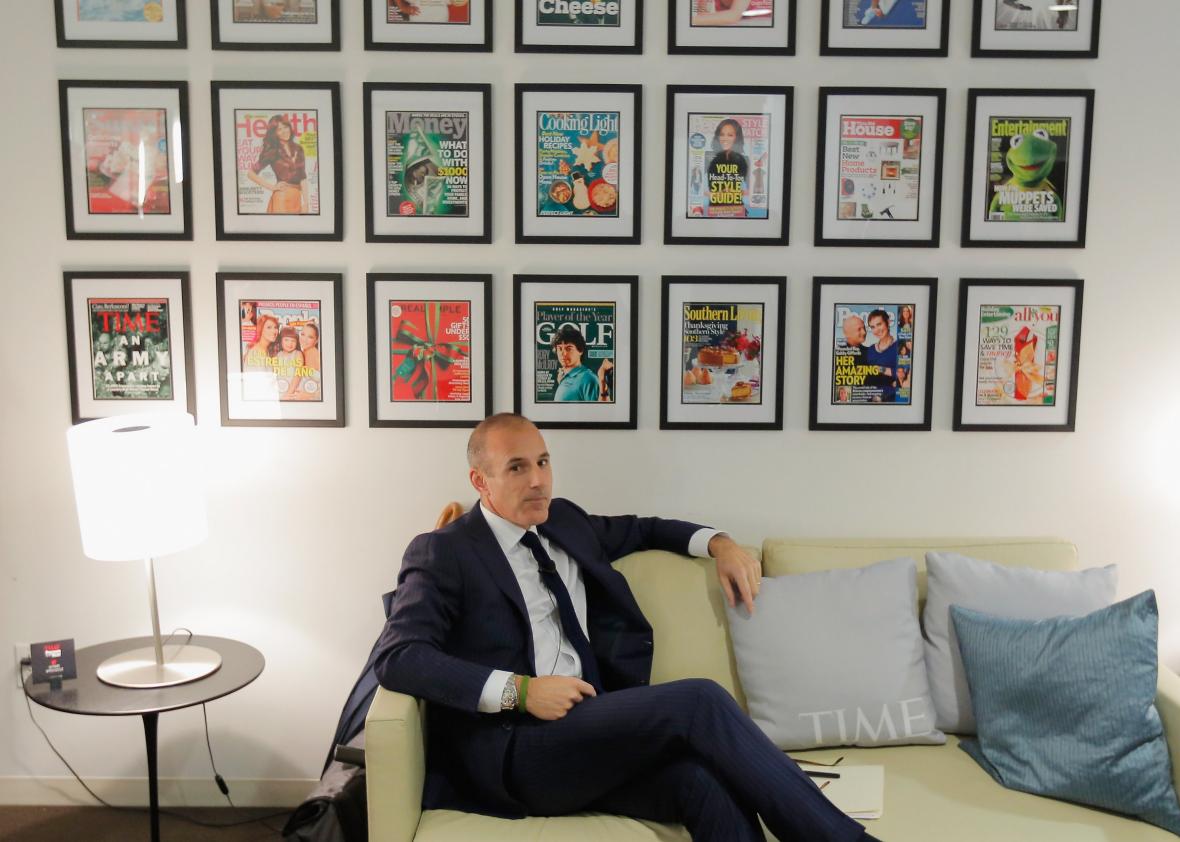 Update, Wednesday, Nov. 29, 11:40 a.m.: An attorney who said he represented the woman who filed the complaint against Lauer told the New York Times he and the woman met with representatives from NBC's human resources and legal departments Monday night for several hours. The Times said it met with the woman earlier that afternoon, but she said she was not yet ready to come forward publicly with her story.
Original post: On Wednesday morning, Today host Savannah Guthrie opened the NBC morning show by announcing that her colleague Matt Lauer had been terminated by the network. Guthrie read a statement from NBC News chairman Andrew Lack that explained that Lauer had been fired after a colleague made a "detailed complaint" on Monday night that "represented, after serious review, a clear violation of our company's standards." Lack's statement, which said the unnamed colleague's complaint described "inappropriate sexual behavior," explained that this was "the first complaint about his behavior in the over twenty years he's been at NBC News, we were also presented with reason to believe this may not have been an isolated incident."
Matt Lauer has been terminated from NBC News. On Monday night, we received a detailed complaint from a colleague about inappropriate sexual behavior in the workplace by Matt Lauer. As a result, we've decided to terminate his employment. pic.twitter.com/1A3UAZpvPb

— TODAY (@TODAYshow) November 29, 2017
Guthrie, who began the telecast by holding hands with her fellow host Hoda Kotb, said she learned the news about Lauer just moments before sharing it on the air and didn't know anything beyond the bare facts in Lack's statement. "As I'm sure you can imagine, we are devastated, and we are still processing all of this," Guthrie said. "For the moment, all we can say is that we are heartbroken. I'm heartbroken for Matt. He is my dear, dear friend and my partner, and he is beloved by many, many people here. And I'm heartbroken for the brave colleague who came forward to tell her story and any other women who have their own stories to tell."
Here is Lack's full statement:
President Trump responded to the news on Twitter on Wednesday morning by asking when "the top executives at NBC & Comcast [will] be fired for putting out so much Fake News."
Wow, Matt Lauer was just fired from NBC for "inappropriate sexual behavior in the workplace." But when will the top executives at NBC & Comcast be fired for putting out so much Fake News. Check out Andy Lack's past!

— Donald J. Trump (@realDonaldTrump) November 29, 2017
Megyn Kelly, the host of another NBC show, opened her show Wednesday morning by telling her viewers to think of the women when talking about the allegations.
[W]hen this happens, what we don't see is the pain on the faces of those who found the courage to come forward. It is a terrifying thing to do. We don't see the career opportunities women lose because of sexual harassment, or the intense stress it causes a woman dealing with it when she comes to work each day. I am thinking of those women this morning, and hoping they are okay. The days to come will not be easy
Update, Wednesday, Nov. 29, 8:25 a.m.: This post has been updated with the tweet from Trump, as well as information about reporting from the New York Times and Variety.
Update, Wednesday, Nov. 29, 11:40 a.m.: This post has been updated with Megyn Kelly's statements.