Donald Trump Doesn't Believe Women, but He Does Believe Roy Moore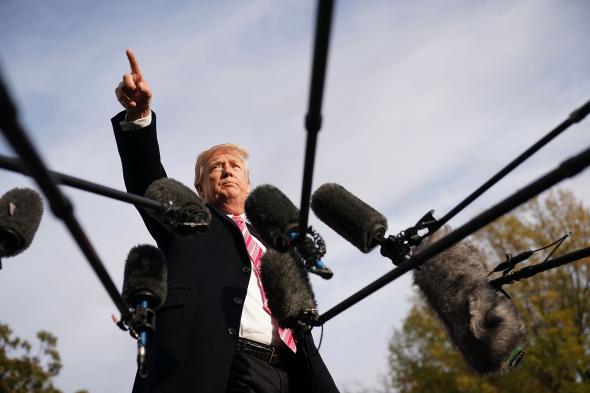 On Tuesday, President Donald Trump tiptoed up to the edge of (re)endorsing Alabama Senate candidate Roy Moore, who has faced a barrage of credible allegations that he romantically pursued teenagers routinely in his hometown of Gadsden while he was in his 30s. "I can tell you one thing for sure: We don't need a liberal person in there, a Democrat — Jones. I've looked at his record. It's terrible on crime. It's terrible on the border. It's terrible on the military. I can tell you for a fact, we do not need somebody that's going to be bad on crime, bad on borders, bad with the military, bad for the Second Amendment," Trump said as he was leaving Washington, D.C. Tuesday for his Mar-a-Lago resort.
That wasn't all of the cynicism from Trump. Trump was then asked by a reporter: "Is an accused child molester better than a Democrat?" Trump used the power of his office to cast doubt on the women's stories:
Let me just tell you, Roy Moore denies it. That's all I can say. He denies it. And, by the way, he totally denies it. I mean, if you look at what is really going on, and you look at all the things that have happened over the last 48 hours, he totally denies it. He says it didn't happen. And, you know, you have to listen to him also. You're talking about, he said 40 years ago this did not happen.
Politico reported Trump had expressed doubts about the veracity of the women's stories privately to advisers and Republican leaders.
During animated conversations with senior Republicans and White House aides, the president said he doubted the stories presented by Moore's accusers and questioned why they were emerging now, just weeks before the election, according to two White House advisers and two other people familiar with the talks… Behind the scenes, the president asked his advisers for updates on the Alabama race, requesting fresh polling and prodding them for information on how people in the state are digesting the revelations. Among the questions he asked: Whether locals believed the accusations Moore was facing. All the while, Moore's team was thrilled that the president — who remains widely popular in Alabama — has refused to stay out of the race. The campaign, one Moore adviser said, had been in touch with the White House in recent weeks.
"Trump's embrace of Moore is shaped by a variety of factors, advisers say, including his long-running reluctance to antagonize his conservative base, much of which is sticking with Moore," Politico notes. "And, with Moore refusing to exit the race, advisers say the president saw little upside to aligning himself against him."