Donald Trump's Twitter Account Vanished for 11 Minutes Thursday Night and It Was Glorious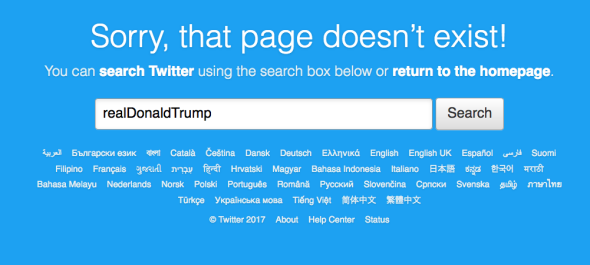 For 11 minutes* on Thursday night, Donald Trump's Twitter account went offline. It's unclear what happened to the president's @realDonaldTrump account between 6:50 p.m. or so and 7 p.m., but for an instant we were free. And it was glorious. No more exclamation points; no more caps lock; no more misspellings; no more almost starting nuclear wars.
For those few moments, minds raced: Had Trump been banned from the site? Was he hacked? Had the president mistakenly taken his page down while trying to change his password from "Trump" to "MAGA306"? We'll likely never know. But no matter what Sarah Huckabee Sanders says tomorrow, this happened, friends. For just a few minutes it felt like life before we had to care what Donald Trump thought about things. I exhaled for the first time in two years. The presidential silence was like witnessing an eclipse, but a good one from within the path of totality, not some knockoff partial eclipse. The real thing. That's how good it was.
Update, 8:15 p.m.: Twitter just put out a boring, non-conspiracy theory explanation of the Trump outage.

Earlier today @realdonaldtrump's account was inadvertently deactivated due to human error by a Twitter employee. The account was down for 11 minutes, and has since been restored. We are continuing to investigate and are taking steps to prevent this from happening again.

— Twitter Government (@TwitterGov) November 3, 2017
P.S. I'd love to be at the InfoWars "editorial" meeting where this explanation gets discussed. I'm going to go out on a limb and guess they're not buying it.
Update, 10:05 p.m.: Mon dieu, saboteur! The plot thickens!
Through our investigation we have learned that this was done by a Twitter customer support employee who did this on the employee's last day. We are conducting a full internal review. https://t.co/mlarOgiaRF

— Twitter Government (@TwitterGov) November 3, 2017
That disturbance in the force you just felt was Alex Jones arching an eyebrow and switching on his microphone as if he were strumming an electric guitar.

*This post was updated to reflect that Trump's Twitter account outage was actually 11 minutes long, not my original estimation of five minutes.