Update: Man Behind Manhattan Truck Terrorist Attack Identified; At Least Eight Dead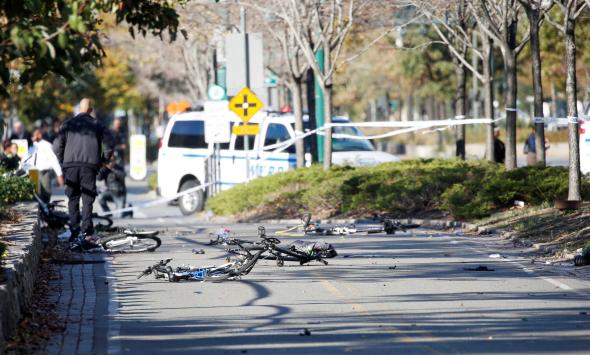 Update, 11:00 p.m.: Argentina's foreign ministry confirmed Tuesday night that five of the fatalities were from the city of Rosario in central Argentina and were in New York City celebrating their 30-year high school reunion. One more member of the group was injured during the truck attack. "Profoundly moved by the tragic deaths this afternoon in NY. We place ourselves at the disposition of the families of the Argentinian victims," Argentina's President Mauricio Macri tweeted Tuesday.

Belgian authorities also confirmed one Belgian was among the victims Tuesday and three more were wounded.
Update, 9:00 p.m.: Law enforcement officials say a handwritten note from the attacker Sayfullo Saipov that was found at the scene says he carried out the deadly attack on pedestrians and cyclists on behalf of ISIS. ISIS has not publicly claimed responsibility for the attack. The Tashkent, Uzbekistan native is reportedly employed as a truck driver. Saipov, who was shot by police after exiting the truck, is expected to survive, according to the Washington Post.
Update, 7:15 p.m.: Authorities have identified the driver of the rental truck as Sayfullo Saipov, a 29-year-old of Uzbekistani origin who apparently has two known residences in Tampa, Florida, and Paterson, New Jersey. Saipov, who came to the U.S. in 2010, drove the Home Depot pickup truck down 20 blocks of a lower Manhattan bike path just after 3 p.m. before crashing into a school bus and exiting the vehicle with fake guns. The truck was reportedly rented in New Jersey.
Update, 6:25 p.m.: Footage taken by a high school student of the alleged perpetrator near the scene of the attack:
Update, 5:55 p.m.: Multiple sources including the New York Times report that police say the driver shouted "Allahu akbar" as he came out of his truck in an attack that killed at least eight people. The number of people injured has risen to at least 15. At a news conference, New York Mayor Bill de Blasio called the incident "cowardly" and "an act of terror."
Police sources are also beginning to share information about the suspect, allegedly a 29-year-old man from Tampa, Florida, ABC News reports. The Times added that the man came to the U.S. in 2010 and as of this writing is in serious condition. We will update as more information becomes available.
This post has been updated with new information.