What Did Trump Mean When He Told the Widow of a Dead Soldier, "He Knew What He Signed Up For"?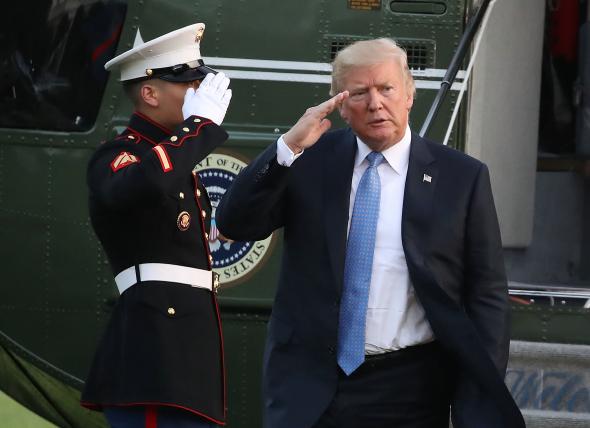 This week, President Trump made some unsavory comments about how his presidential predecessors handled military deaths while in office. "If you look at President Obama and other presidents, most of them didn't make calls," Trump said during a Rose Garden news conference Monday. "A lot of them didn't make calls. I like to call when it's appropriate." The utterly unnecessary distortion of how President Obama and others comforted the families of fallen soldiers sparked an uproar; it also put increased emphasis on how Trump would handle the recent deaths of American Special Forces in Niger two weeks ago.
On Tuesday, Trump made a call to the widow of U.S. Army Sgt. La David Johnson, who died during the operation, moments before her husband's casket landed at Miami International Airport. Rep. Frederica Wilson (D-Fla.) told local Miami TV station WPLG that during the 5-minute call, the president said of the pregnant widow's husband: "he knew what he signed up for... but when it happens it hurts anyway."
The "he knew what he signed up for" line sparked immediate outrage online as a callous shifting of blame from the commander-in-chief onto the dead soldier for his decision to serve. Given Trump's penchant for utter rhetorical gracelessness in times of emotional gravity and compulsive blame-shifting for just about anything, it's not hard to read his comments as a not my bad interjection. That's certainly how Rep. Wilson, who apparently was present for the call, heard Trump's words. "It's so insensitive," Wilson told WPLG. "He should have not have said that. He shouldn't have said it." Further supporting that line of interpretation is the fact that Trump may have been feeling defensive about these particular deaths as they are among the first on his watch as president and they came during an operation that drew criticism for its execution.
In fairness to Trump, however, the question seems to be one of tone and delivery. You could imagine a previous non-Trump president saying these words in a tone of respect for the bravery of signing up for a job knowing you could die doing it. You could imagine President Obama, for instance, hugging a grieving wife and saying: "He knew what he signed up for... but when it happens it hurts anyway." It's less eloquent and emotionally precise than we are accustomed to hearing from Obama, but Donald Trump is, among many things, less eloquent and emotionally precise than Obama. Could it simply be a botched attempt at performative emotionality and rhetorical empathy from a man who doesn't appear to possess much of either?
Either way, give it a few hours and the president will be awake again.
Don't worry we're like 7 hours away from Trump's early morning tweets about this widow thing, which I'm sure will clear everything up.

— Alan Cole (@AlanMCole) October 18, 2017