Trump Is, Again, Questioning the Clinton Email Investigation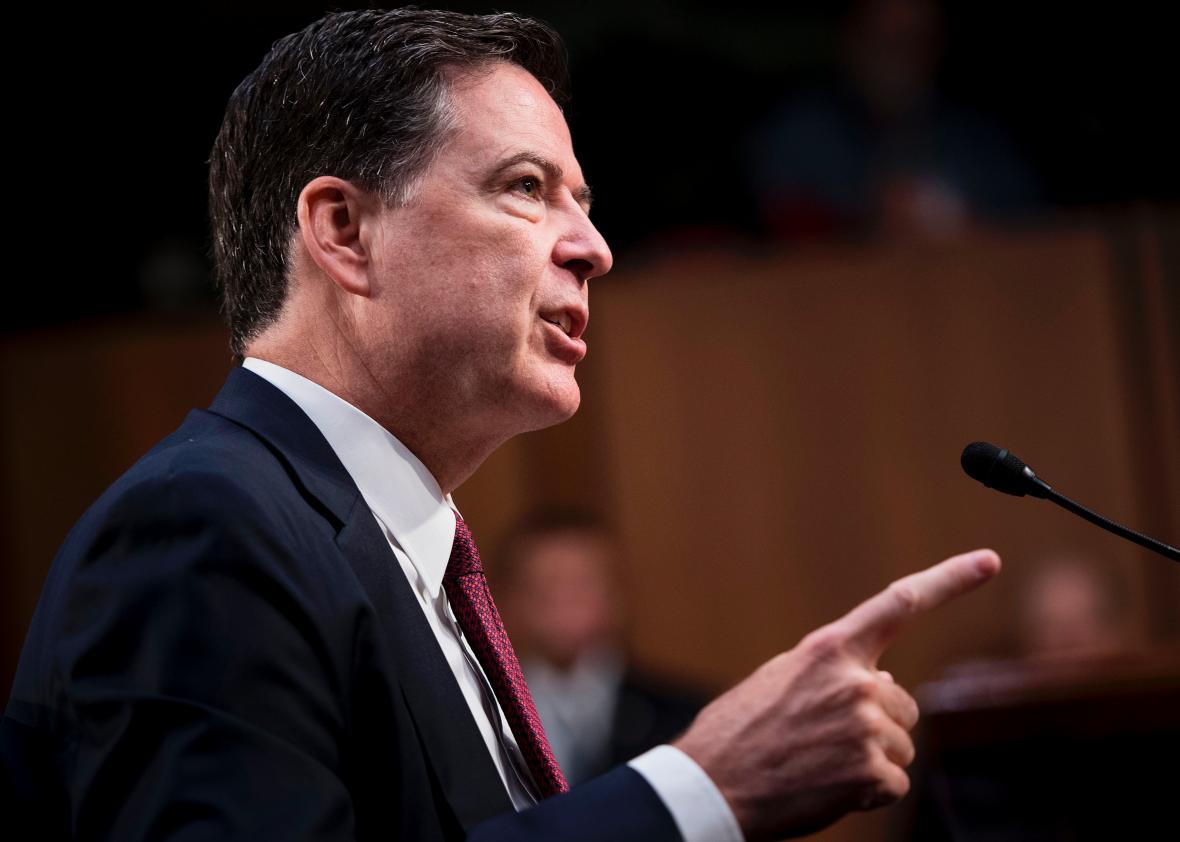 President Trump suggested on Twitter on Wednesday that former FBI Director James Comey had "fixed" the investigation into Hillary Clinton's private email server use.
The president appeared to be responding to the release of a Justice Department document that he claimed showed Comey was drafting a "letter exonerating Crooked Hillary Clinton long before" the investigation ended.
The document from May 2016, which the FBI posted on Monday and on which Newsweek first reported, is titled "Drafts of Director Comeys July 5, 2016 Statement Regarding Email Server Investigation Part 01 of 01" and is largely redacted. In the only real, unredacted text of the document, an FBI official writes, "please send me any comments on this statement so we may roll into a master doc for discussion with the Director at a future date."
Wow, FBI confirms report that James Comey drafted letter exonerating Crooked Hillary Clinton long before investigation was complete. Many..

— Donald J. Trump (@realDonaldTrump) October 18, 2017
...people not interviewed, including Clinton herself. Comey stated under oath that he didn't do this-obviously a fix? Where is Justice Dept?

— Donald J. Trump (@realDonaldTrump) October 18, 2017
At the time the emails in the document were sent around, Comey had yet to interview several people, including Clinton. In July 2016, the FBI concluded its first investigation into Clinton's email use when Comey cleared her of any criminal wrongdoing but chided her for being "extremely careless"—a public rebuke in a break with FBI protocol.
It's not certain, however, what Comey's staff had drafted in May, whether drafting a statement before concluding an investigation would be a break with protocol, or what Comey had hoped to learn from his remaining interviews.
Sens. Chuck Grassley and Lindsey Graham had previously written in a letter to the new FBI director that they had learned Comey had drafted the statement in advance, and that they believed he had pre-judged the investigation.
When Trump announced the surprise firing of Comey in May, he first said he did so on the recommendation of Attorney General Jeff Sessions and Deputy Attorney General Rod Rosenstein, who both said Comey had criticized Clinton too harshly in public and that he should not have announced the reopening of her case just before the election.
Soon after his first tweets accusing Comey, Trump tweeted that Comey was "the best thing to ever happened" to Clinton.
As it has turned out, James Comey lied and leaked and totally protected Hillary Clinton. He was the best thing that ever happened to her!

— Donald J. Trump (@realDonaldTrump) October 18, 2017
Clinton has blamed Comey for her loss, starting with the way he made the announcement there would be no charges against her. But the greater damage to Clinton's campaign came in October, when Comey announced he had opened the investigation into newly discovered emails, less than two weeks before the election. After nine days, he cleared her again.
In defending the reopening of the email investigation, Comey said he agonized over the decision but that he "thought this is the best way to protect these institutions that we care so much about" so that "the American people know the system's not rigged in any way."