Trump Says Media Licenses "Must Be Challenged" After Reported Story Shows Him Not Knowing Anything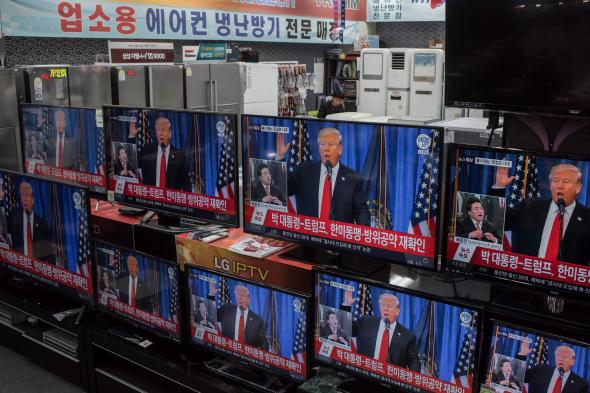 Donald Trump, the current president of the United States, woke up on Wednesday morning in a particularly autocratic mood. The black fly in Trump's proverbial Chardonnay was, predictably, the media.
Fake @NBCNews made up a story that I wanted a "tenfold" increase in our U.S. nuclear arsenal. Pure fiction, made up to demean. NBC = CNN!

— Donald J. Trump (@realDonaldTrump) October 11, 2017
Of late, NBC News has caught up with the likes of CNN as the president's media adversary of choice because the network has upped its reporting on the White House and delivered a series of unflattering scoops on the often disheveled and always dysfunctional Trump White House. NBC News, for example, informed the world that Secretary of State Rex Tillerson called Trump a "moron." This was not NBC's first exclusive tweak of Trump, but it seemed to get his attention. The network followed up with a report published early Wednesday morning—right smack in the middle of Trump's daily news grazing at the Twitter trough—that during a high-level national security meeting this summer, in response to a presentation about nuclear disarmament, Trump, alarmed, told his advisers he wanted more nukes. Lots more. Like, tens of thousands more.
NBC News cited three people in the room as its source of the information. That made Trump an unhappy president, so he did what he does.
With all of the Fake News coming out of NBC and the Networks, at what point is it appropriate to challenge their License? Bad for country!

— Donald J. Trump (@realDonaldTrump) October 11, 2017
"It's frankly disgusting the way the press is able to write whatever they want to write," Trump told reporters later in the Oval Office. "And people should look into it." He followed up again later Wednesday evening.
Network news has become so partisan, distorted and fake that licenses must be challenged and, if appropriate, revoked. Not fair to public!

— Donald J. Trump (@realDonaldTrump) October 12, 2017
Despite all of Trump's absurdist bluster about the media, his statements Wednesday were an escalation, if only rhetorically. It seems like a typical diversionary tactic hauled out of the president's never-ending well of personal grievances, but it is yet another indicator of what appears to be Trump's increasingly agitated state of being. This isn't the first time a Republican president has gone after broadcast network licenses. Richard Nixon, a similarly troubled American president, obsessed over his so-called enemies in the press, and during the 1973 Watergate investigation, Nixon allies challenged the TV licenses of the Washington Post. The clumsy, legally dubious attempt was unsuccessful. And we all know what became of Dick.

Trump's barrage was, however, ethically dubious enough that it prompted a commissioner of the Federal Communications Commission to weigh in.
Clearly, Donald Trump doesn't know how it works. And he surely doesn't care. Despite all of the mustered presidential outrage Wednesday, Trump's tweets, of course, were also highly ironic given Donald Trump's candidacy was championed by two partisan propaganda machines in Breitbart and Fox News.
Here is that irony deliciously summed up in digital form:

"Life has a funny way of sneaking up on you. Life has a funny, funny way of helping you out."