Caribbean Islands Left in Ruins as Irma Churns Toward Bahamas and Florida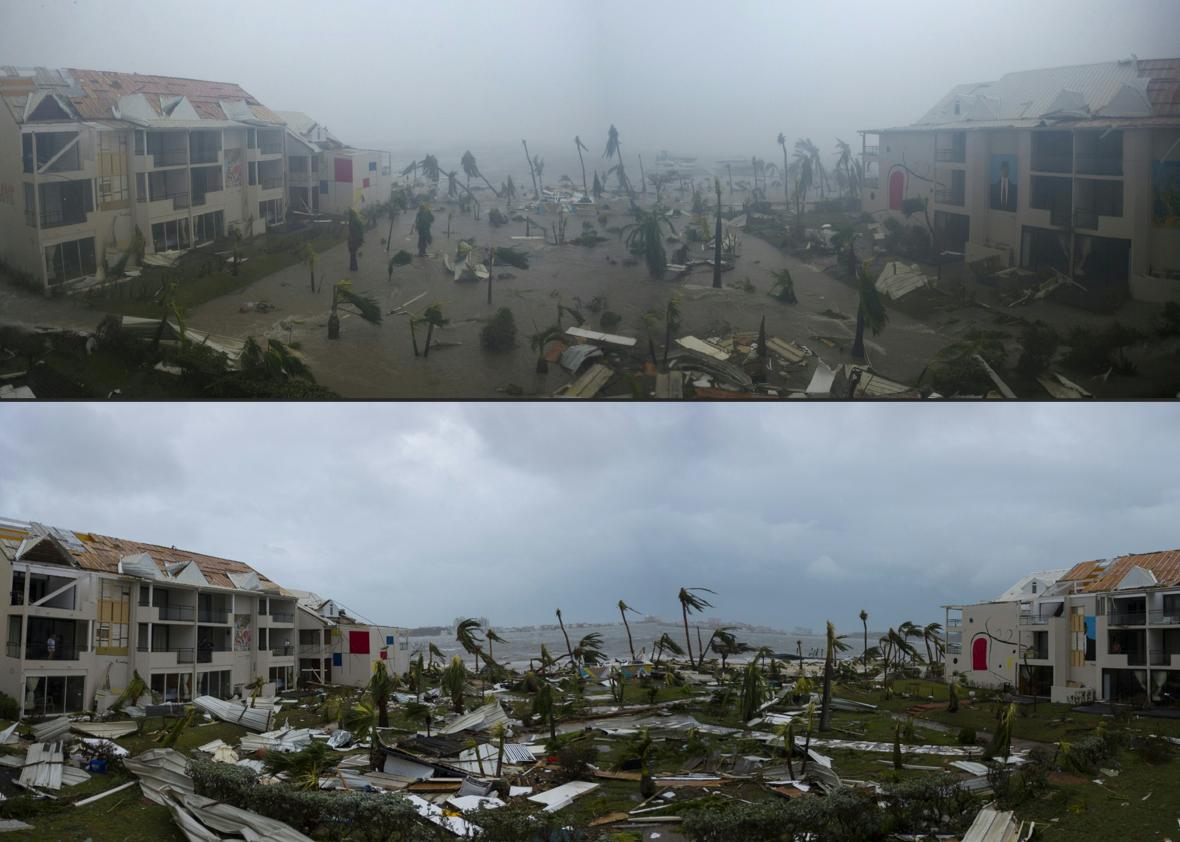 As Hurricane Irma churns toward the Bahamas, residents of the islands hit thus far in the Caribbean are left assessing the destruction. At least seven people have died, and thousands are stranded without homes, water, or power.
The eye of the storm hit Barbuda, St. Barthélemy, St. Martin, Anguilla, and the British Virgin Islands almost directly between Tuesday and Wednesday. Barbuda was particularly devastated, as 95 percent of the island's structures were demolished, leaving 60 percent of the population homeless. In St. Martin, four people were killed and 50 were injured, and the major airport and coastal towns suffered extensive damage. Ninety percent of Anguilla's roads are blocked, and the island's attorney general told the Washington Post that more people may die unless the British territory receives aid for damaged hospitals and communications infrastructure. The Bahamas is bracing for a similar impact expected Thursday night.
Puerto Rico was somewhat fortunate by comparison, as the eye of the storm passed through waters 85 miles north of San Juan. Yet Irma's outer bands brought heavy winds and rain that caused power outages for over half the island; 40 percent of its hospitals are relying on generators. Almost 50,000 people were left without water, and authorities expect that public health risks like dengue fever, diarrheal diseases, and respiratory illnesses will surge in the aftermath.
The extensive damage thus far has heightened concerns for Florida, where the National Oceanic and Atmospheric Administration predicts that Irma will make landfall at around 8 a.m. Sunday. The eastern coast of the state will likely receive the most severe impact. The National Hurricane Center on Thursday put south Florida, home to more than 6 million people, on hurricane and storm surge watch, the first that the center has issued in the continental U.S. for Irma. As of Thursday afternoon, 650,000 residents in Miami-Dade County have been ordered to evacuate.