Trump Reads Aloud 15-Minute Edited Version of Previous Charlottesville Remarks and Calls It a Rally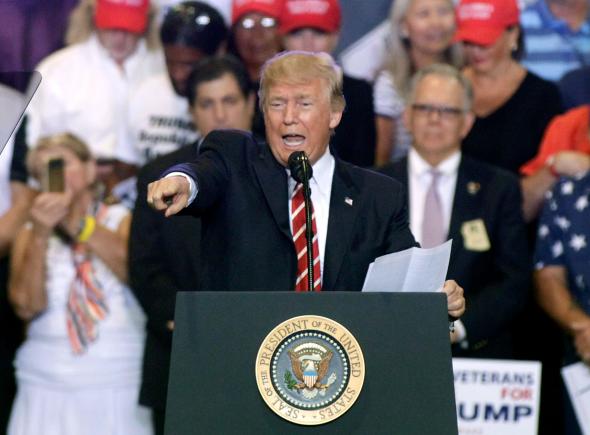 Donald Trump somehow managed to upstage himself in ridiculousness Tuesday night in Phoenix. The president of the United States came out to what appeared to be a meager crowd at the Phoenix Convention Center amidst speculation and consternation about what he would say in his first large-scale public event since Charlottesville. A visibly agitated Trump trotted out a few of his dusty one-liners from the campaign, before moving on, inexplicably, to recounting nearly verbatim his remarks day by day in the aftermath of Charlottesville. "I don't want to bore you with this," Trump told the crowd before doing just that.
Trump moved off the teleprompter and took out a clump of papers with a selection of his old statements on Charlottesville and, literally started reading them. But first he condemned the media:
Just like they don't want to report that I spoke out forcefully against hatred, bigotry and violence and strongly condemned the neo-Nazis, the white supremacists, and the KKK. I openly called for unity, healing, and love and they know it because they were all there. So what I did—so what I did is I thought I'd take just a second and I'm really doing this more than anything else because you know where my heart is. OK? … So here is my first statement when I heard about Charlottesville. And I have a home in Charlottesville.
For the next 15 full minutes, the president read selective passages from his remarks on Charlottesville, skipping the unflattering ones like "on many sides" to rewrite the history of the past two weeks in America. Every so often Trump would cut himself off from reading with asides like: "This is me speaking. Here's further. This is on Saturday. I did this three times." Slowly the crowd behind him began to sit down because, more than anything, it was boring. "So I said based on event that took place over the last weekend in Charlottesville, I'd like to provide the nation with an update because that was right after the event, the first one, right?" Yes, right. It was only two weeks ago. We remember it.

It was as transparent attempt as any of Trump's many gaslighting episodes. It's tempting to say it's more pathetic, but it's not really. It was about par for the course. The only difference was the stakes creep ever higher as the president's approval rating dips and his agitation rises. Trump went on to say other half-truths Tuesday night, but during his outrageous attempt to edit (recent) history, perhaps most importantly, Trump lost the crowd. As the energy in the auditorium wilted, Trump looked up at the press risers dutifully recording and transmitting his absurd and false statements around the country and the world and he recognized exactly what was happening. "That's so funny. Look back there," Trump told the crowd. "The live red lights they're turning those suckers off fast, I'll tell you. They're turning those lights off fast. Like CNN. CNN does not want its falling viewership to watch what I'm saying tonight, I can tell you." And for the first time all night, Trump stumbled upon on an absolute truth—he wasn't worth watching anymore.