What We Learned Today About the Senate's Health Care Bill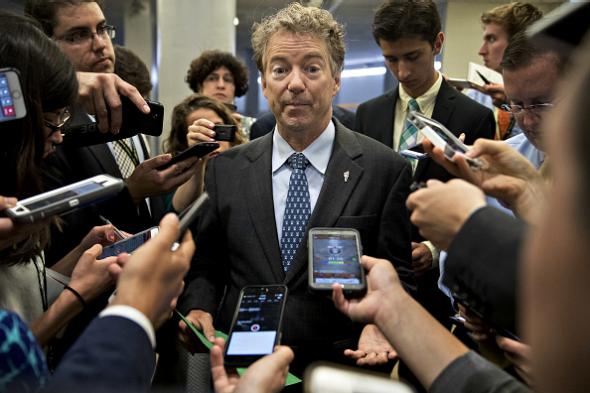 We'll have more coverage of the Senate's Obamacare replacement bill on Slate tonight and in the days and weeks to come, but for now here are your big takeaways:
The Senate's "Better Care Reconciliation Act" distinguishes itself from the House's American Health Care Act by eliminating the individual mandate, dispending insurance subsidies via an income-based system that's slightly more generous than the House's age-based system (but still less generous than Obamacare), and making larger cuts to Medicaid.
Both bills, in the broader picture, would cut billions of dollars of spending on health care for low- and middle-income individuals in order to finance the elimination of a 3.8 percent tax on some investment income for individuals who make more than $200,000 a year. They'd both also undermine regulations that guarantee certain types of "essential benefits" coverage and coverage for individuals with pre-existing conditions.
Four conservative Republican senators—Ted Cruz, Rand Paul, Utah's Mike Lee, and Wisconsin's Ron Johnson—say they're not yet convinced the bill goes far enough in dismantling the ACA. Two moderate Republican senators—Maine's Susan Collins and Alaska's Lisa Murkowski—say they're concerned that the bill would cut some funding for Planned Parenthood. Republicans can only afford two defections if they want to pass the bill; it's not clear how serious any of those six holdouts are about actually voting "no." A few other relative moderates—West Virginia's Shelley Capito, Ohio's Rob Portman, Nevada's Dean Heller, and Arizona's Jeff Flake—will also be watched for potential wobbliness.
The Congressional Budget Office has not yet issued its analysis of how this bill would affect the federal deficit and the number of Americans who have health coverage. That "score" is expected to be released next week. It's also not clear yet whether the Senate parliamentarian will give all of the bill's provisions her go-ahead.
No one cares what the Democrats think about the bill, or about anything else.
For further fascinating/insightful discussion, read the rest of today's live blog below.