At Least 19 Dead in Suspected Suicide Attack at Ariana Grande Concert in Manchester, England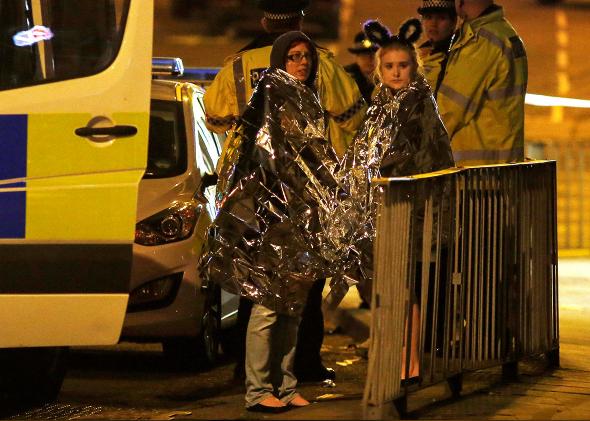 Update, 8:55 p.m.: The signs coming out of Manchester increasingly indicate the deadly explosion was an act of terrorism. The souce of the blast is still yet to be confirmed, but British authorities say they are proceeding as if the incident was an act of terror. There are conflicting reports on the number of explosions that occurred, with some outlets now reporting there may have been multiple explosions.
Update, 8:40 p.m.: The Manchester Arena has confirmed that the explosion took place outside of the arena, as people were exiting.
Update, 8:15 p.m.: Manchester police confirm 19 dead and 50 injured.

Update, 7:38 p.m.: NBC News reports the death toll has risen to at least 20 people.
At least 20 people were killed and possibly 'hundreds" of others were injures after one or more loud bangs were heard Monday night at an Ariana Grande concert at Manchester Arena in England, multiple law enforcement told NBC News.

Original Post: A deadly explosion at an Ariana Grande concert Monday night in Manchester, England resulted in casualties and injuries among concertgoers. Early reports indicate at least five in the audience were killed after what witnesses' described as a large bang at the end of Grande's encore. Video shot inside the arena shows panicked audience members streaming for the exits following the blast.
British authorities are describing the explosion as a "serious incident" as police worked to block off the area and investigate the source of the blast. Emergency services are on the scene tending to the injured.
Just arrived outside the Manchester Arena where there is a huge emergency service response including armed officers standing guard pic.twitter.com/kfF2lIaZXy

— Chris Slater (@chrisslaterMEN) May 22, 2017
A bomb disposal unit has just arrived outside the Manchester Arena. Can also hear sniffer dogs being brought out of the vans pic.twitter.com/SgTPZxMLyg

— Chris Slater (@chrisslaterMEN) May 22, 2017