Today in Conservative Media: Anderson Cooper's Sexist Treatment of Kellyanne Conway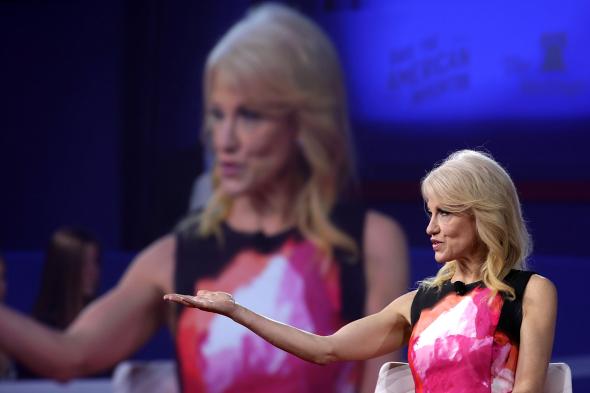 On Thursday, acting FBI Director Andrew McCabe testified before the Senate Intelligence Committee.
Many conservative sites zeroed in on McCabe's claim that there "has been no effort to impede our investigation" into connections between the Trump campaign and Russia. LifeZette, for example, claimed that McCabe had "undercut key parts of the narrative" that the firing was an attempt to obstruct that process.
Breitbart, likewise, objected to notions that "President Trump fired Comey after he requested more resources for the investigation," as the Washington Post had suggested, calling that reporting "fake news." It wrote, "Acting FBI Director Andrew McCabe told senators on Thursday that contrary to news reports, the FBI's investigation into Russian interference in the elections, including any collusion by Trump's campaign, is 'adequately resourced.'"
This story, obviously, is made up, but the media is … gonna continue to run it. "McCabe?" They're going to say. "He just didn't know! Comey could have made the request privately, secretly and McCabe could well have been kept out of the loop for whatever reason." They are not going to accept McCabe's denial of this as probative, because this is too big a lie. This has got too much potential! "Comey was asking for more money and that's why Trump sent him packing. Yeah!"
Fox News' website, meanwhile, suggested that McCabe had endorsed another key conservative talking point, the idea that Comey should have gone after Hillary Clinton. It wrote, "New Acting FBI Director Andrew McCabe acknowledged for the first time in public testimony Thursday that some agents were angry with the 2016 decision not to prosecute Hillary Clinton."
Some conservative sites picked up Kellyanne Conway's Tuesday evening interview with CNN's Anderson Cooper in which Cooper had dramatically rolled his eyes at the White House counselor. During a Thursday morning appearance on Fox & Friends, Conway told the show's hosts, "I see sexism a lot of times when I show up for programs like that."
On Facebook, Sean Hannity scored hits with two posts about possible investigations: