Sights and Sounds From the Trump Celebration at the Hilton Hotel in New York
First up, a video of a Trump supporter sticking his head through the sunroof of a truck, holding up a sign that says "The silent majority stands with Trump," and barking defiant taunts at the crowd around him.
As we wait for final vote totals to come in, Slate videographer Aymann Ismail is shooting photos and video and speaking to Trump supporters outside the Hilton Hotel, where the Trump campaign has been stationed all night and where the mood early Wednesday morning is jubilant.
Aymann next spoke with Annemarie Coyle, a 46-year-old from the Bronx who says the first thing she wants Trump to do when he takes over the presidency is "lock Hillary up."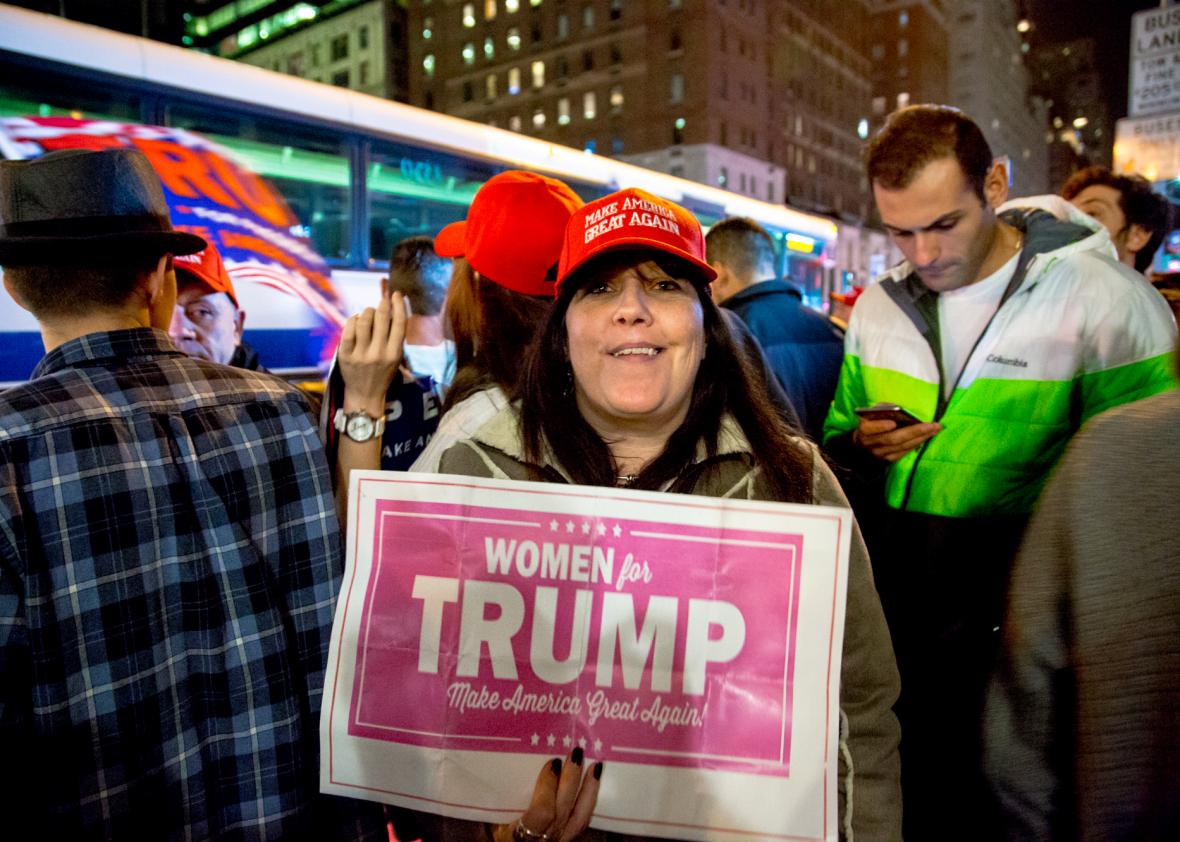 Here's the full interview:
One striking thing about the people Aymann's talking to is how intensely confident they say they always were in Trump's victory—and to hear them, as a Clinton supporter, is to hear one's own now-shattered confidence. On that note, meet Samuel Winsbacher, who declares that Clinton is "only loyal to the people who give her money."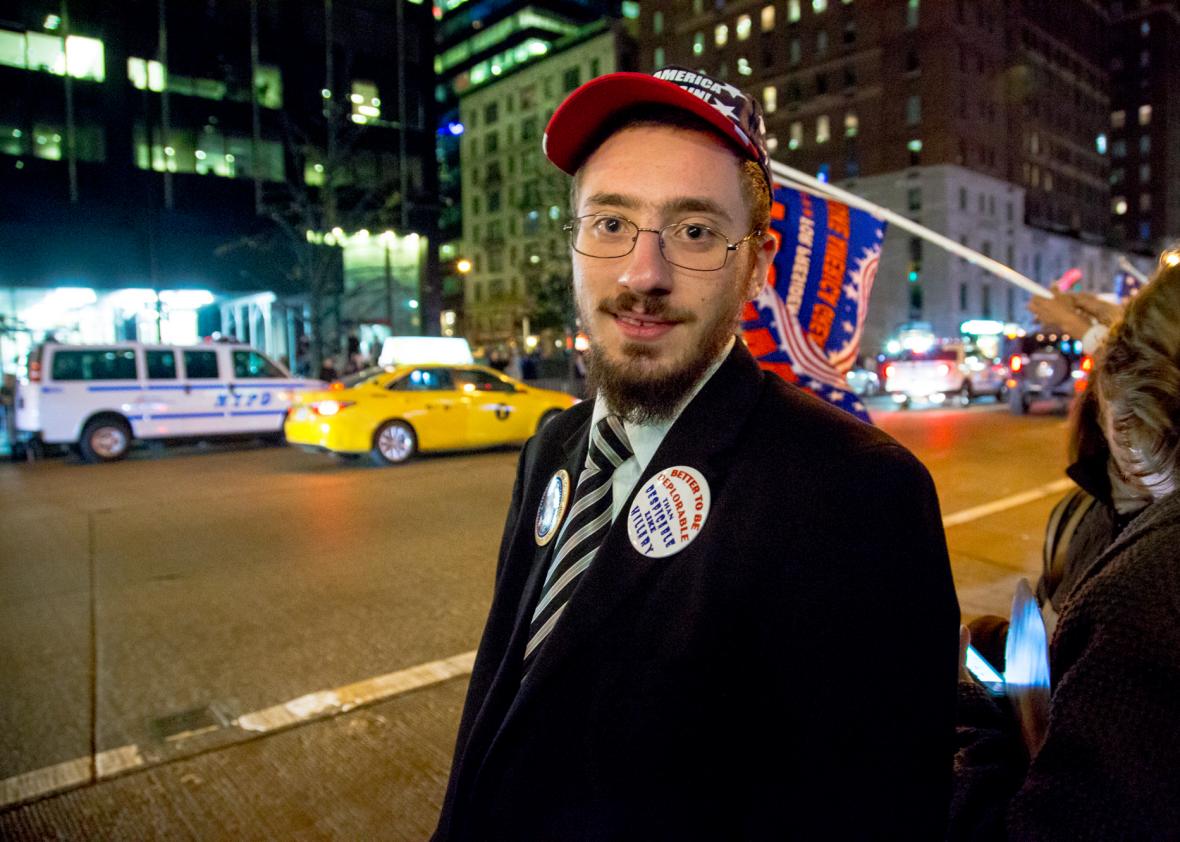 Here's Aymann's interview with Winsbacher:
As the likelihood of a Trump victory edges into certainty, the time has come for those who didn't believe he would ever win to start wondering as vividly as they can manage what he will actually achieve in office. The same is evidently true for Trump's supporters. As 30-year-old Vjekoslav Grgas told Aymann, there's no guarantee that the "global government cabal" aligned against Trump won't try to "either corrupt him or kill him." Here's Grgas: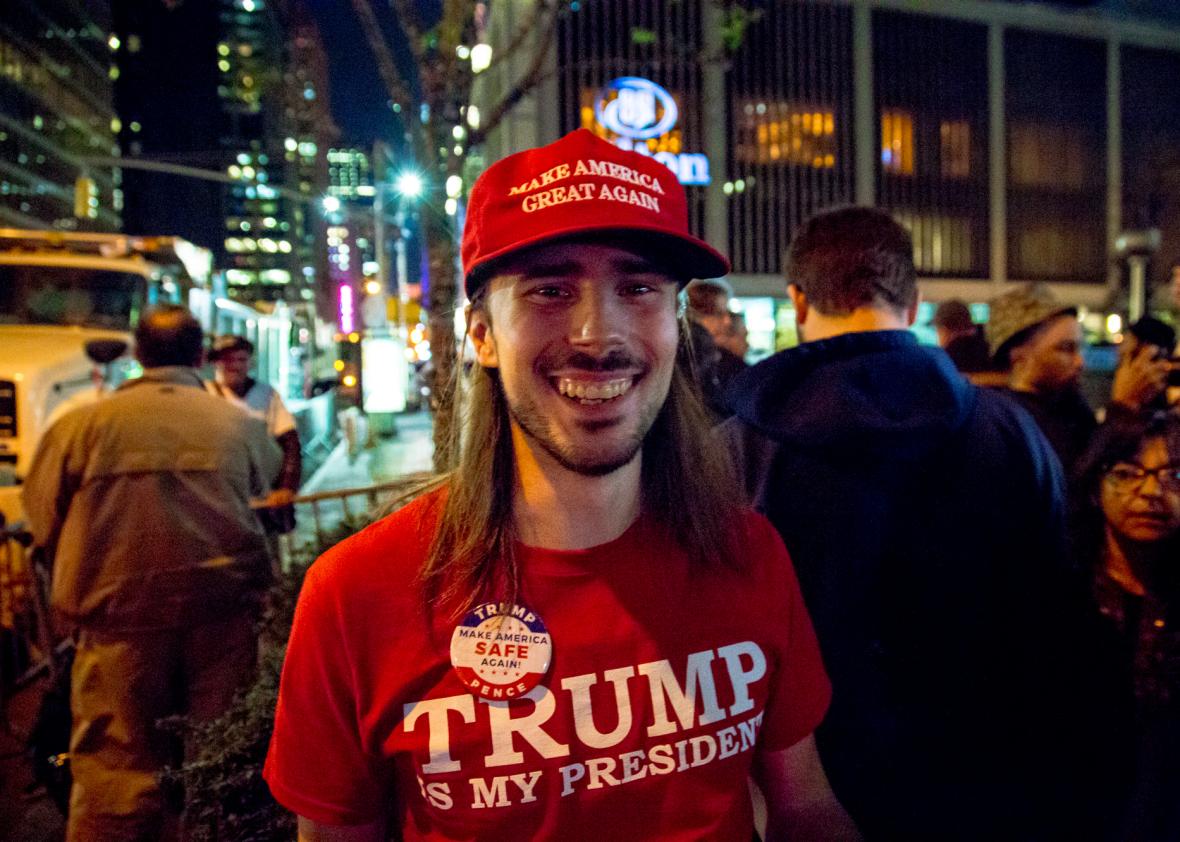 And here's the interview:
As emboldened Trump supporters and despairing Clinton voters collide tonight, tensions are predictably reaching a boiling point. Ayman captured several arguments in the street outside the Hilton, but this one, between 46-year-old Jay Alexander Martin and a 20-year-old Trump supporter named Sam Hyde, cuts closer to the bone than the others. Over the course of the argument, Hyde tells Martin, who says he is a veteran, that he should consider finding another country to live in, and explains that all he and his friends seek is to "peacefully separate from you." It's harrowing.