This Week's Conservative Pundit Tracker: The Please Let It Be Over Edition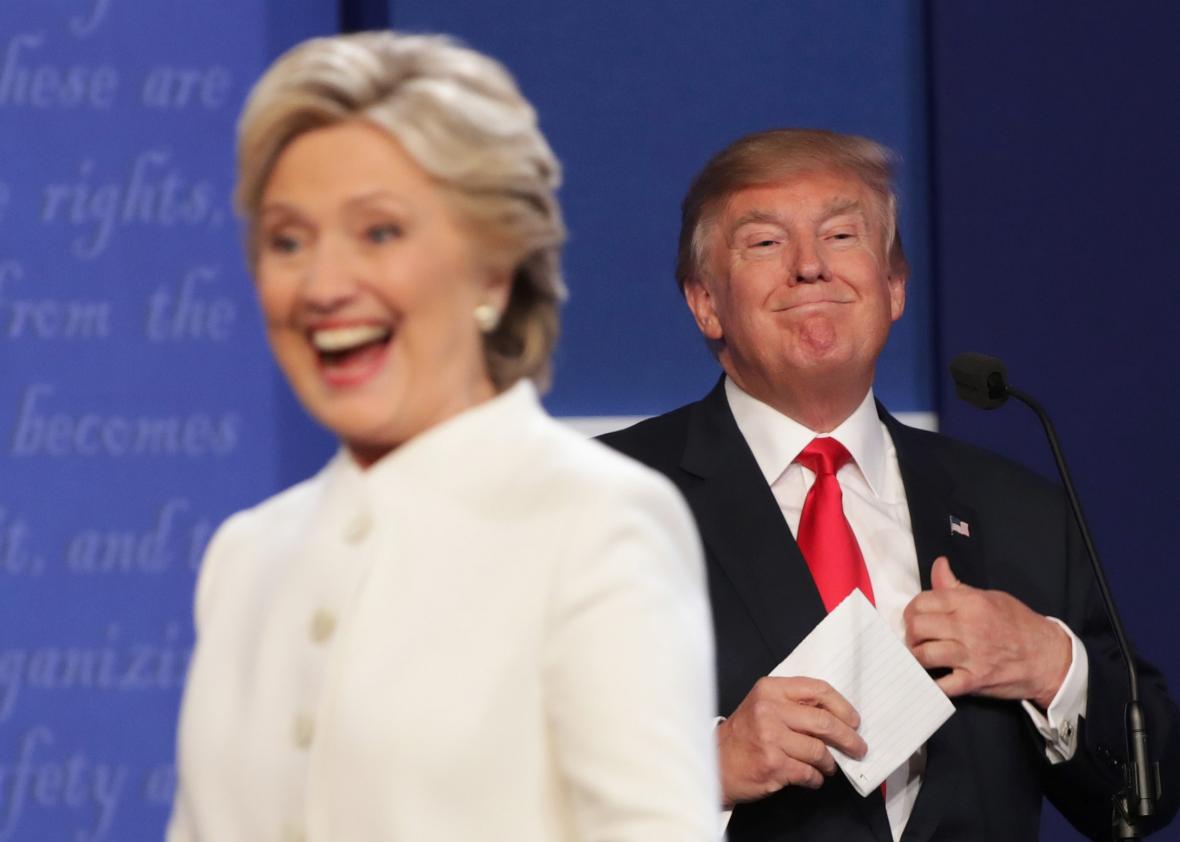 Each week we're publishing a new chart showing where our group of 25 right-wing pundits stand on the question of Trump, and you'll be able to look back at past weeks to see if minds are changing. Our categories are "Voting Trump," "Voting Clinton," "Not Voting," "Someone Else," and "Inscrutable." Someone else means either a third party candidate or a write-in. Inscrutable includes pundits who have voiced opposition to both Trump and Clinton, but are otherwise undecided, and those who are sharply critical of Trump but haven't stated a preferred alternative. Click on a pundit's head to see what he or she has said about the election this week. (If someone doesn't write or speak or tweet—crazy, but possible—in a given week, we'll assume they are "thinking…" Also: We are scouring the internet obsessively, but it's a big place and it's possible someone will say something that we miss. We are confident you'll let us know in comments if so!)
Will the Inscrutables pull it together come November? Will anyone else jump on the Hillary train? Will more pundits coalesce around a third-party candidate? Or will everyone eventually fall into line for Trump between now and Election Day? Keep an eye on this weekly tracker to find out.
The game-changers always come on Friday, don't they? Three weeks ago, the Access Hollywood tape that showed Donald Trump boasting about grabbing women "by the pussy" dropped late on a Friday afternoon. This Friday, it was news that the FBI was investigating new emails apparently pertaining to Hillary Clinton's use of a private email server. If "new Hillary Clinton email scandal" wasn't enough of an October surprise to get the conservasphere tittering, news quickly came that the emails were discovered as part of the FBI's investigation of Anthony Weiner, noted sexter and soon-to-be-former husband of Clinton aide Huma Abedin.
All we need to complete today is for Hillary to collapse into another car. And for Trump to viciously ridicule Stephen Hawking.

— Michael B Dougherty🍃 (@michaelbd) October 28, 2016
Anthony Weiner is the Fredo Corleone of the Democratic Party.

— Rod Dreher (@roddreher) October 28, 2016
This is the part where the executive producer hands the 2016 election screenplay back to the writer & urges him to dial it back a bit.

— Guy Benson (@guypbenson) October 28, 2016
Given Weiner's history—he's currently being investigated for sending dick pics to a 15-year-old in North Carolina—pundits were a little weirded out at Hillary Clinton's attempt to change the subject by tweeting out a video of Donald Trump talking about going backstage at beauty pageants.
It wasn't exactly a good week for either candidate before the news broke.
The steady drip-drip-drip of John Podesta emails released by WikiLeaks contained a series of embarrassing revelations for Hillary Clinton, ranging from think tank president Neera Tanden's suggestion to Podesta that "brown and women pundits can shame the [New York] Times and others on social media" to a disturbing "circle of enrichment," as the Washington Post described it, wherein companies that donated to the Clinton Foundation also provided consulting contracts and speaking engagements to former President Bill Clinton.
On the Trump front, meanwhile, fundraising documents showed that, despite a steady stream of emails from his campaign vowing that he would "triple match" donations, Trump had given a paltry $30,000 of his own money to the campaign over the first 19 days of October.
The Daily Wire's Ben Shapiro wonders how much worse this horrible election can get:
So, we're about six minutes from Hillary dropping the long-awaited Trump sex tape with a horse, right?

— Ben Shapiro (@benshapiro) October 28, 2016