Deadly Category 4 Hurricane Matthew Ravages Caribbean, Heads Towards U.S. East Coast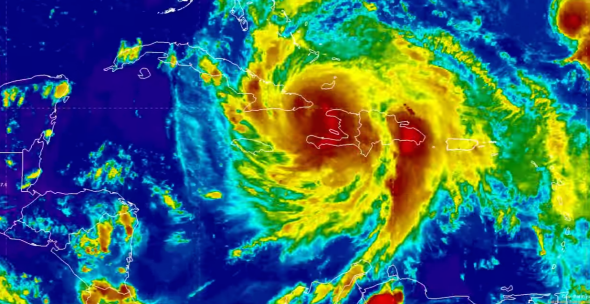 Hurricane Matthew continued to churn its way through the Caribbean Tuesday night bringing destructive 145-mile-per-hour winds and as much as 40 inches of rain with it. The Category 4 hurricane made landfall in Haiti and swept across Cuba late Tuesday. The storm has already claimed as many as seven lives, including four in the Dominican Republic, but that number is sure to rise.
"The top United Nations official in Haiti, Mourad Wahba, described Matthew as 'the largest humanitarian event' in the country of 11 million since the devastating earthquake six years ago, with thousands scrambling for shelter," the New York Times reports. "The storm threw into doubt the long-delayed plans for presidential elections scheduled for Sunday. Officials were expected to announce a decision on Wednesday, with many experts saying it would be nearly impossible to conduct voting with crucial infrastructure crippled or destroyed."
"Matthew is increasingly likely to have significant impacts along the Southeast U.S. coast later this week," according to the Weather Channel. "Those impacts may start to arrive in Florida as early as Thursday, potentially spreading northeast to coastal Georgia and the coastal Carolinas Friday into the weekend." State of emergencies have been ordered along the Southeast coast, but there have been no evacuations ordered along the East Coast, other than Ocracoke Island on the Outter Banks in North Carolina, according to CNN. "The forecast is that Matthew will ride along the Southeast U.S. coast from Florida through the North Carolina Outer Banks from Thursday evening through Saturday," CNN reports.
Cameras outside the space station captured dramatic views of major Hurricane Matthew as the orbital complex flew 250 miles above (speed x4). pic.twitter.com/nfAQuw2OQC

— Intl. Space Station (@Space_Station) October 3, 2016