A Deep Dive Into the Harassment Allegations Against Roger Ailes, Bill O'Reilly—and Scott Brown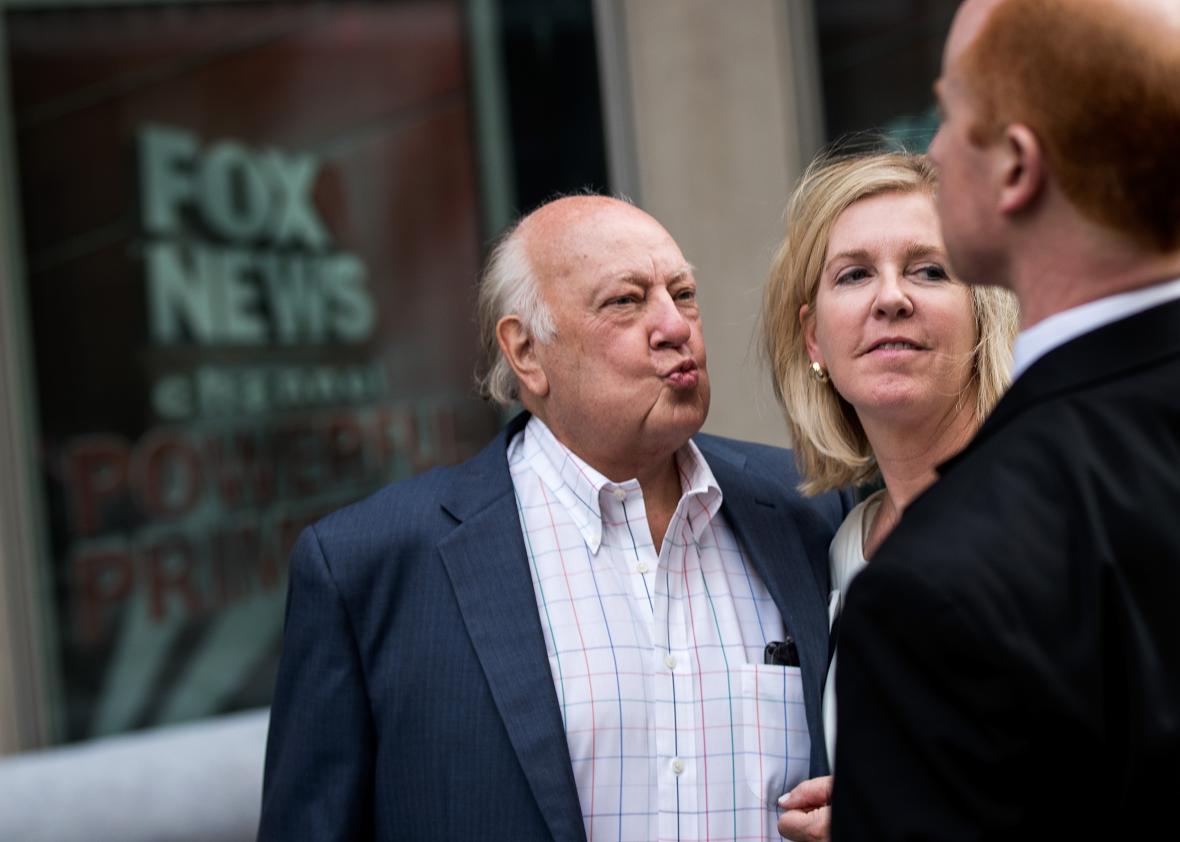 Former Fox News host Andrea Tantaros filed a lawsuit in New York state court on Monday alleging that she suffered frequent and outrageous sexual harassment during her time at the network. The suit implicates former chief executive Roger Ailes and Bill O'Reilly—few surprises there based on recent and past history. But perhaps more damningly, the suit also claims that Bill Shine, one of the men who replaced Ailes as co-president of Fox News, enabled Tantaros' mistreatment—and accuses former Massachusetts Republican Sen. Scott Brown of harassment. Here's a deep dive into the biggest allegations in the suit.
As my Slate colleague Nora Caplan-Bricker noted, Tantaros' complaint begins by declaring that "Fox News masquerades as defender of traditional family values, but behind the scenes, it operates like a sex-fueled, Playboy Mansion-like cult, steeped in intimidation, indecency, and misogyny." It goes on to back up each of these claims, especially with regard to Ailes, whom former Fox star Gretchen Carlson sued for harassment this summer. Since then, at least 20 other women have accused Ailes of harassment; most have requested anonymity.
Among other transgressions Tantaros details in her complaint, Ailes allegedly:
Told Tantaros to "come over here so I can give you a hug" asked her to "turn around so I can get a good look at you" (twice), and said, "I bet you look good in a bikini."
Asked Tantaros whether Greg Gutfeld and Dana Perino are each gay, then (puzzlingly) asked whether they were "sleeping together."
Called various female Fox contributors "easy," "nuts," "fat," and "a stalker."
Said Dana Perino "is uptight. You get the feeling that she never lets her hair down, but if she did, she'd be a good time."
Said Kimberly Guilfoyle is a "Puerto Rican whore" and a "Puerto Rican streetfighter."
Asserted that Harris Faulkner "has the tendency to look like the angry black woman."
Tantaros eventually confronted Ailes, criticizing his "upsetting" and "unprofessional conduct." In response, Irena Briganti, head of the network's media relations, allegedly retaliated. The lawsuit claims that Briganti blocked Tantaros from prime-time shows, and booked her for an interview that dwelt on her physical attributes, including her breasts. Briganti also purportedly created fake social media accounts to harass Tantaros online. Eventually, Tantaros asked Shine whether Ailes and Briganti were targeting her. According to the complaint, Shine:
told Tantaros that Briganti "is like a rabid dog on a chain that we can't control. Sometimes that dog gets off the chain." He then pointed to a magazine cover which had a picture of Ailes on the cover, and said: "You see him? He's a very powerful man. This powerful man has faith in Irena Briganti." He then told Tantaros that she should not "fight this" and that she "needed to let this one go."
In spite of this harassment, Tantaros believed she had a strong relationship with Bill O'Reilly, whom she viewed as a friend and a mentor. But in February of 2016, O'Reilly also allegedly "started sexually harassing" Tantaros by:
(a) asking her to come to stay with him on Long Island where it would be "very private," and (b) telling her on more than one occasion that he could "see [her] as a wild girl," and that he believed that she had a "wild side."
When rumors of O'Reilly's advances spread, the network informed Tantaros that she would no longer appear on his show.
The lawsuit also suggests that the network allowed guests to harass Tantaros with impunity. Here's its description of Scott Brown's advances toward Tantaros on-set at her show, Outnumbered:
On or about August 18, 2015, former Massachusetts Senator Scott Brown appeared on Outnumbered. Brown made a number of sexually inappropriate comments to Tantaros on set, including, and in a suggestive manner, that Tantaros "would be fun to go to a nightclub with." After the show was over, Brown snuck up behind Tantaros while she was purchasing lunch and put his hands on her lower waist. She immediately pulled back, telling Brown to "stop." Tantaros then immediately met with Shine to complain, asking him to ensure that Brown would never be booked on the show again. Shine said that he would talk to Scott. Thereafter, Shine and Scott ignored Tantaros's complaint, and continued to book Brown on Outnumbered.
When Tantaros complained about the pattern of harassment at Fox, the network allegedly retaliated with vigor and celerity. Tantaros claims that Fox launched a "media assault" against her, excluding her from popular programs, vilifying her in the press, and barring her from promoting her book on air—a right guaranteed by her contract.
In May, Fox commenced arbitration proceedings, offering Tantaros a settlement that would prevent her from speaking publicly about "her experiences with Fox … from now until forever." But Fox allegedly leaked information about the arbitration to the press, a violation of the proposed settlement's terms. Tantaros now argues that because Fox itself breached the terms of arbitration, she may proceed with a lawsuit in court. She is suing for sexual harassment, as well as retaliation for reporting that harassment, in violation of New York City and state employment discrimination law.
Ailes, Shine, Briganti, and two other executives are named defendants in the suit, as well as the Fox News network itself. O'Reilly and Brown are not named. Tantaros is requesting millions of dollars in damages for lost income and mental anguish, as well as punitive damages against her alleged harassers.