Watch Stephen Curry and Security Guards Dance to "Jones' BBQ and Foot Massage" Jingle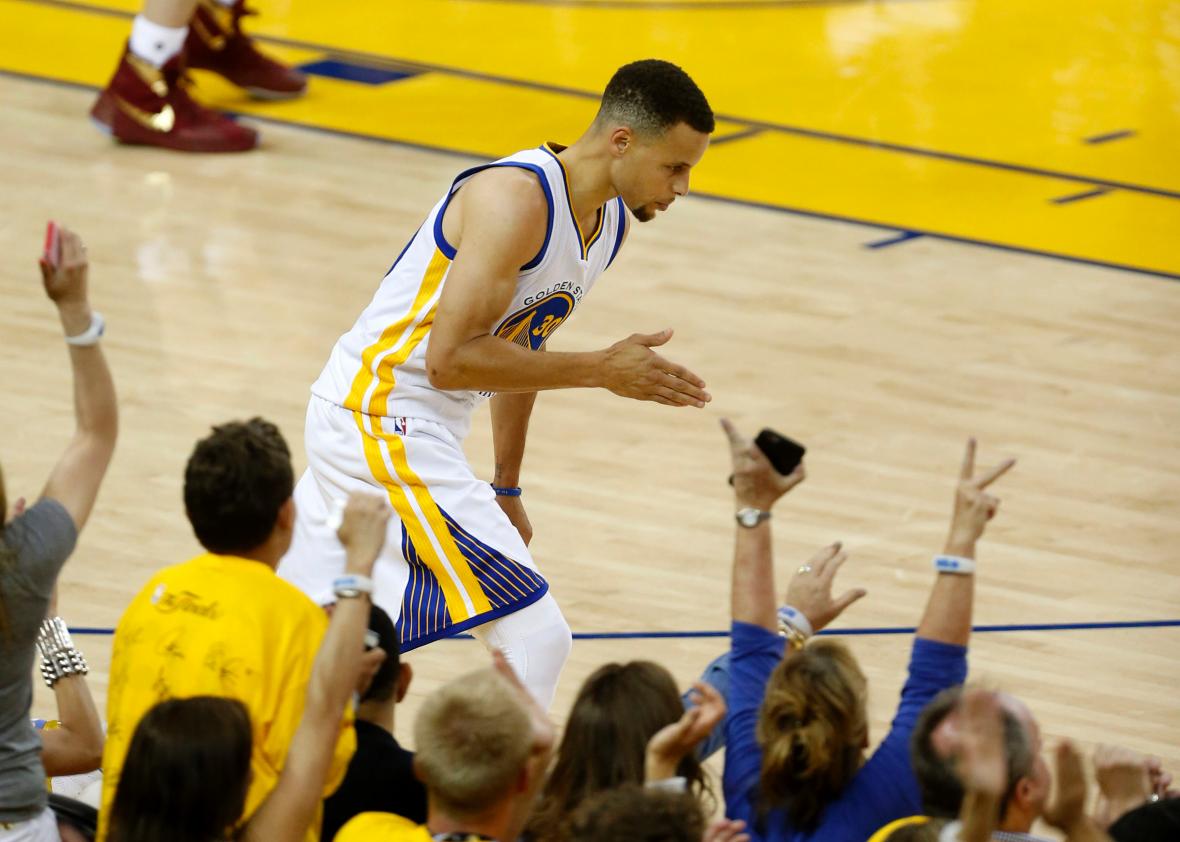 The Golden State Warriors are feeling good about themselves. After a hard-fought, seven-game series victory over the Oklahoma City Thunder in the Western Conference Finals, the Warriors are now up 2–0 in a not-so-hard-fought showdown with the Cleveland Cavaliers. How good are the defending champs feeling? Here's how Curry got ready for Game 2 against LeBron and the Cavs.
This isn't just an NBA Finals thing. Here are Curry and the security guards before a game against the Thunder.
There is some nonvideo evidence of Curry partaking in barbecue-and-foot-massage-related singing and dancing prior to last week. This tweet from April indicates that we should all be following the Warriors on Snapchat.
I'm super weak at Steph Curry singing jones bbq & foot massage on the Warriors snap story thing 😂😂😂

— claire (@ClairePilgrim) April 17, 2016
The jingle is an apparent reference to Shaquille O'Neal's catchphrase "barbecue chicken"—a term he uses to describe a mismatch in which the defensive player is going to get roasted.
The jingle itself comes from a viral video that dates back to the heady pre-Vine, pre-Instagram, pre-Snapchat, pre-Warriors-being-good days of 2009. The fake commercial, starring Chicago comedian Robert L. Hines, advertises a magical place called "Jones' Good Ass BBQ & Foot Massage" where "America can sit down, enjoy a meal, and get their feet rubbed."
This is one in a series of long-ago commercial parodies from Hines and the sketch comedy group Big Dog Eat Child. The others include "Jones' Big Ass Truck Rental & Storage":
And "Jones' Cheap Ass Prepaid Legal and Daycare Academy":
Now that his video has a second life, Robert L. Hines is feeling pretty good about himself, too. A video uploaded to the Big Dog Eat Child YouTube page notes that Hines' character Toby Jones was scheduled to appear in the Oracle Arena parking lot for Game 2 of the Warriors-Cavs series. If you see Hines around, you know what to sing.