This Week's Conservative Pundit Tracker: The David French Huh? Edition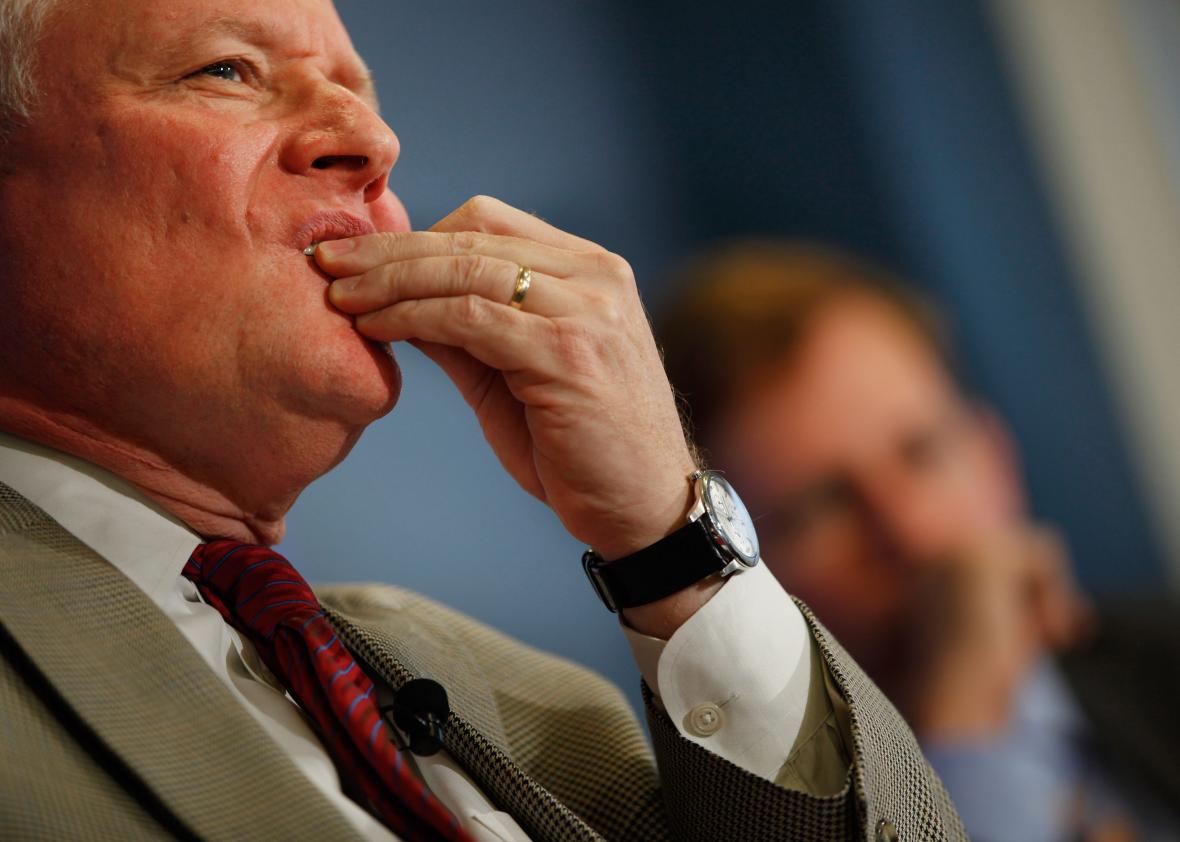 Each week we're publishing a new chart showing where our group of 25 right-wing pundits stand on the question of Trump, and you'll be able to look back at past weeks to see if minds are changing. Our categories are "Voting Trump," "Voting Clinton," "Not Voting," "Someone Else," and "Inscrutable." Someone else means either a third party candidate or a write-in. Inscrutable includes pundits who have voiced opposition to both Trump and Clinton, but are otherwise undecided, and those who are sharply critical of Trump but haven't stated a preferred alternative. Click on a pundit's head to see what he or she has said about the election this week. (If someone doesn't write or speak or tweet—crazy, but possible— in a given week, we'll assume they are "thinking…" Also: We are scouring the internet obsessively, but it's a big place and it's possible someone will say something that we miss. We are confident you'll let us know in comments if so!)
Will the Inscrutables pull it together come November? Will anyone else jump on the Hillary train? Will more pundits coalesce around a third-party candidate? Or will everyone eventually fall into line for Trump between now and Election Day? Keep an eye on this weekly tracker to find out.
It was a busy week for #NeverTrump, and a bad one.
Weekly Standard editor Bill Kristol, who for months had been looking for a third party candidate to champion, spent Memorial Day weekend teasing his forthcoming announcement that he found one. Did he get Mitt Romney to change his mind? Maybe Nebraska Sen. Ben Sasse? Excitement was building! And then Tuesday, Mark Halperin broke the news that Kristol was recruiting … National Review staff writer David French. Wha?
Righty pundits largely agree that French—an Iraq war vet and constitutional lawyer— is an honorable man and a proper conservative with absolutely no chance of affecting the election. Erick Erickson, in a column in which he said he would vote for French if he were on the ballot, laid out the challenge:
David French has, charitably, 0.1% name ID. He will have to raise at least $250 million, dedicating almost all of that to ballot access fights and potential legal challenges to extend deadlines under the John Anderson precedent from 1980, which is unlikely. Then he'd have to raise a billion dollars more.
Kristol, meanwhile, promised an announcement on Thursday at 8:15 a.m., but that moment came and went with no word. French posted this coy tweet on Wednesday, but has not declared anything official.
All the normal political rules apply. The conventional wisdom has been right. An underdog can't win. Right?

— David French (@DavidAFrench) June 1, 2016
What did happen on Thursday: House Speaker Paul Ryan declared that he would vote for Trump.
One of the pundits we're tracking, Max Boot, summed up the disappointment of many:
I should be used to it by now but still depressed to see people I respect pledge obeisance to Trump. Like Invasion of the Body Snatchers.

— Max Boot (@MaxBoot) June 2, 2016
Interestingly, as Paul was announcing his support for Trump, Hillary was giving a speech excoriating Trump that many Trump skeptics admired. For instance, columnist Jennifer Rubin wrote:
In reminding us foreign policy is hard and many crises are never discussed or anticipated in a campaign, she certainly made one think about the sort of person we want making the tough calls on issues we never imagined.
But, did Hillary making any progress winning over our Trump skeptics? Maybe. We're not moving anyone into the Hillary column just yet, but we'll be looking closely for more signs. Here's one, from Commentary's Noah Rothman:
Republicans gave this speech, media outlets. This is Rubio's stump. You just didn't broadcast it.

— Noah Rothman (@NoahCRothman) June 2, 2016
Finally, since last we tracked, the Libertarian Party picked its nominee: Gary Johnson. Coming out of a loony convention that did not exactly scream "conservative values," this nomination did not seem to sway anyone.