Watch Steph Curry Set the NBA Overtime Scoring Record With 17 Points in Five Minutes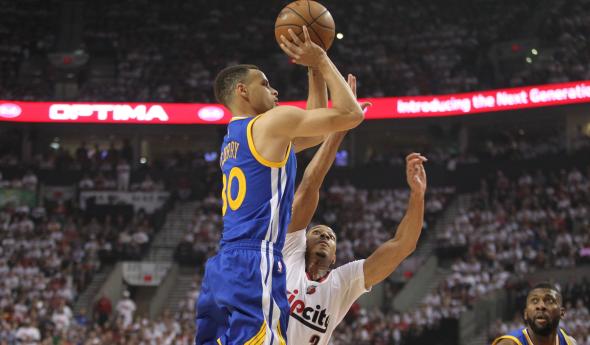 Before Monday night, Golden State Warriors guard/superhero Stephen Curry had missed two weeks of games with a sprained knee. It wasn't clear that he would play at all in Game 4 of the Warriors' second-round playoff series against the Portland Trail Blazers until a few hours before tipoff. Coming off the bench, he missed his first nine 3-pointers; he missed a shot that would have won the game—which was tied—as time ran out in the fourth quarter. It was a bit of an off day for Curry. Then he scored 17 points in overtime to set an all-time NBA record. It was incredible; you can see all his OT baskets in our video above.
And this. (Watch the net on this one. It doesn't really move; it just shivers.)
And also this, which induced an instant-classic reaction shot of slack-jawed Blazers owner/Microsoft billionaire Paul Allen:
All hail Steph Curry, king of basketball. He has returned.