Ted Cruz Once Again Trounces Donald Trump in Battle for Delegates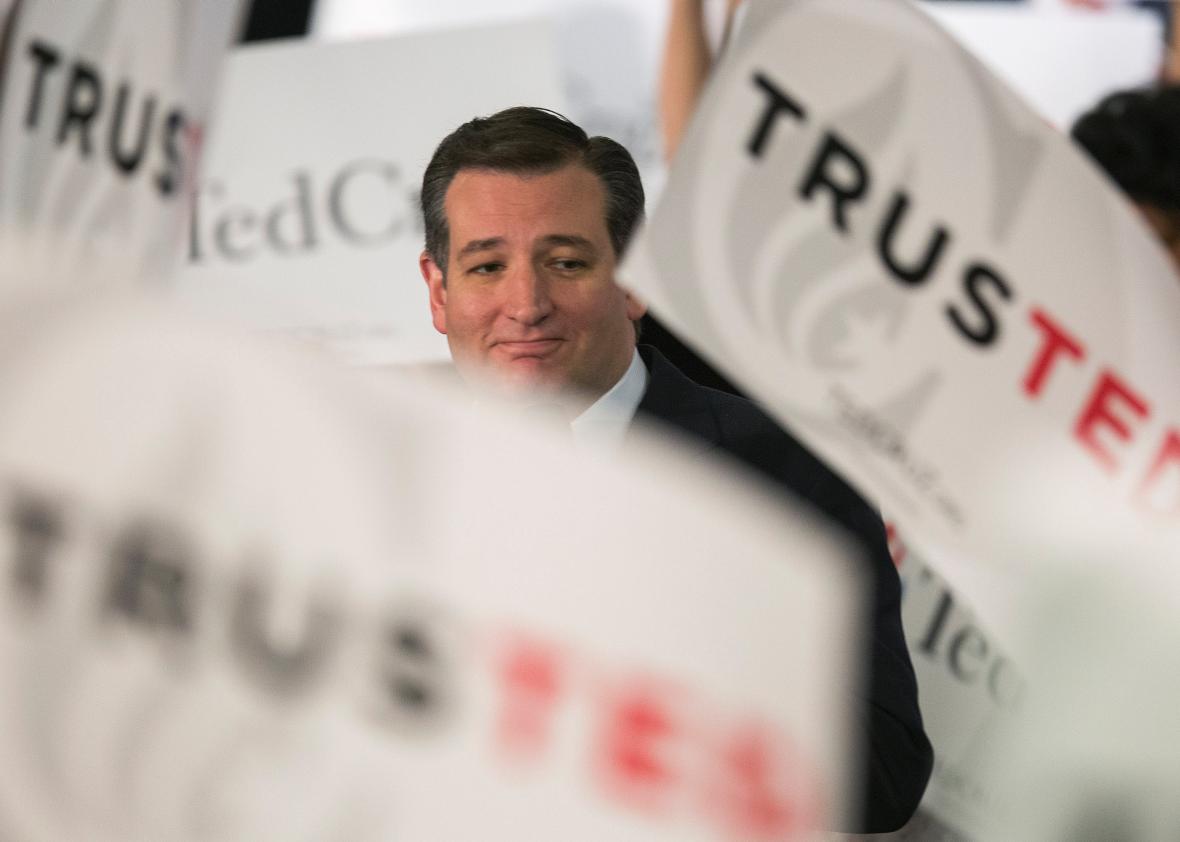 It seems to be the same story every weekend. Ted Cruz puts on a highly organized effort to pick up delegates in conventions across the country and leaves Donald Trump in the dust, even in states where he easily won the primary. On Saturday, there were more than 90 delegates up for grabs and Cruz snapped up at least 50 of them in what was "another delegate bloodbath for Donald Trump," as Politico puts it. Although rules require delegates to vote according to the will of those they represent at first, most can then switch up their allegiance if there is a contested convention.
In Wyoming, Cruz easily won all 14 delegates that were up for grabs at the state convention on Saturday. The senator was the only contender to actually attend the convention. Sarah Palin was scheduled to speak for Trump but ended up canceling. And Cruz had a simple message: I'm the Trump alternative. "If you don't want to see Donald Trump as the nominee, if you don't want to hand the general to Hillary Clinton, which is what a Trump nomination does, then I ask you to please support the men and women on this slate," Cruz said. At the end of the day, he had at least 24 of the state's 29 delegates, according to the Casper Star-Tribune.
Trump expressed his frustration with the election process in Wyoming, saying he had no intention of spending time and money in a process through which "the bosses" pick delegates. "I'm funding my own campaign, and I'm putting up my own money," Trump said on Fox News Saturday morning. "I don't want to waste money going to Wyoming, sending crews for months and months knowing you're not going to beat the bosses. I've beaten the bosses."
In Georgia, where Trump easily won the primary, Cruz won 32 of 42 delegate slots on Saturday. In one convention in the state, Trump supporters were so frustrated that they simply walked out, reports the Atlanta Journal Constitution. Cruz also enjoyed smaller victories in South Carolina, Kansas, and Florida.
Cruz should enjoy his Saturday victories though because they come before what is expected to be an overwhelming Trump victory in New York on Tuesday. Although his lead is not as large as it once was, the real estate mogul still holds a 30-point advantage in his home state. And if Trump wins clear victories in the votes ahead it would still be technically possible for him to secure the 1,237 delegates needed to avoid a contested convention. For now though, Cruz's focus seems to be on an entirely different strategy. David Shribman of the Pittsburgh Post-Gazette explains:
Mr. Cruz is playing on a bigger field, trying to peel off first-ballot votes from delegates elected but not formally pledged, or strategizing to conduct guerrilla wars in state capitals, such as Bismarck, N.D., and Denver, Colo., where delegates are floating like uncharged molecules and might ultimately become, in the Cruz mold, free radicals.
So while the television cameras are on the outdoor game — rallies, street encounters, visits to ethnic enclaves and upstate urban centers — Mr. Cruz is playing the sort of indoor game where he has surprising strength. Ted Cruz might have his moment in Cleveland.