Trump Campaign Manager Charged With Misdemeanor Battery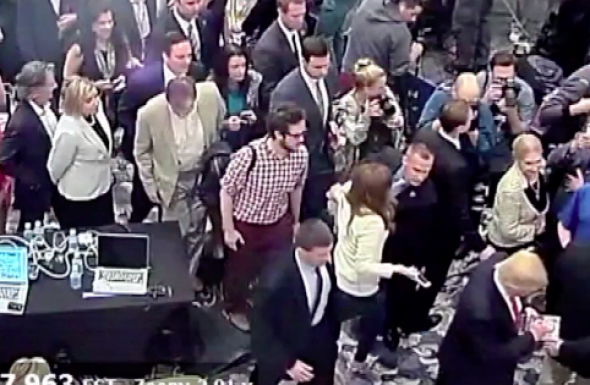 Donald Trump campaign manager Corey Lewandowski was arrested on a misdemeanor battery charge after turning himself in to police in Jupiter, Florida, the Palm Beach Post reports. (Update, 12:05 p.m.: The Trump campaign says Lewandowski was issued a notice to appear in court, not arrested. Another update, 1:25 p.m.: A Jupiter police spokesman tells Time that the department considers Lewandowski to have been arrested.) Former Breitbart.com reporter Michelle Fields accused Lewandowski of grabbing and pulling her, leaving bruises on her arm, after a March 8 press conference, and had filed an official complaint. Lewandowski denied Fields' allegations, writing in a tweet that he "never touched [Fields]," who he called "delusional," but security footage released by Jupiter police shows him grabbing Fields and pulling her back:
Trump's campaign has issued a statement asserting that Lewandowski is "absolutely innocent" of the charge against him.
Update, 12:05 p.m.: The headline and first sentence of this post were changed to reflect that the specific legal charge against Lewandowski is battery, not assault.