Peyton Manning Says Doping Allegations Are "Complete Garbage"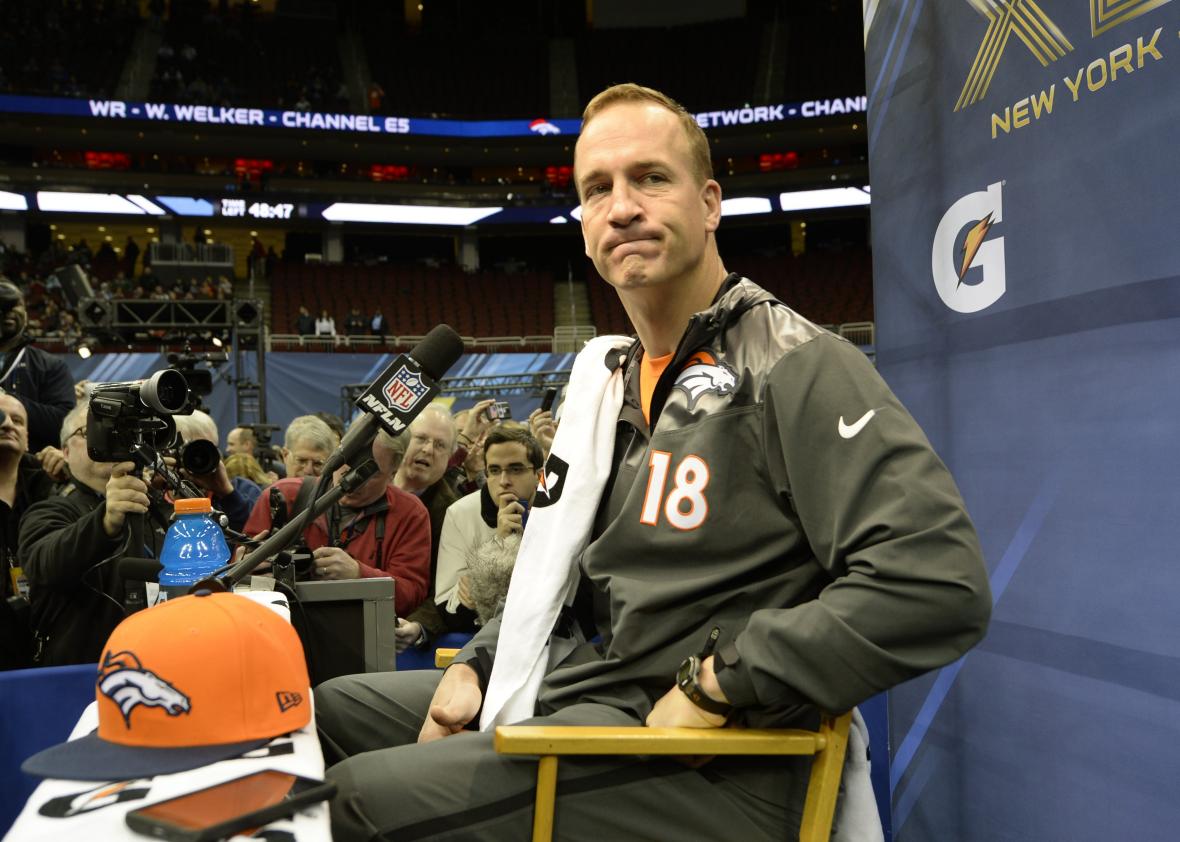 An Al Jazeera documentary is making waves in sports circles by naming Denver Broncos quarterback Peyton Manning as one of several high-profile professional athletes who received performance-enhancing drugs. The documentary, which uses undercover footage, explores how easy it is for athletes to get their hands on performance-enhancing substances. It also claims Manning received human growth hormone in 2011 from Charlie Sly, who worked for the anti-aging Guyer Institute in Indiana at the time. Manning quickly denied the claims.
"The allegation that I would do something like that is complete garbage and is totally made up," Manning said. "It never happened. Never. I really can't believe somebody would put something like this on the air."
The Broncos also issued a statement saying the team stands by Manning and believes there is no truth to the claims. "Knowing Peyton Manning and everything he stands for, the Denver Broncos support him 100 percent," the team said. "These are false claims made to Al Jazeera, and we don't believe the report."
The documentary, titled The Dark Side, placed a British hurdler, Liam Collins, undercover in an effort to expose the murky underworld of performance-enhancing drugs in sports. As a 37-year-old who competes at an international level, Collins used the cover story that he was willing to do "whatever it takes" to make it to the Rio Olympics. Sly told Collins he supplied Manning with human growth hormone, which was always shipped to Manning's wife. Sometimes, Manning would go to the Guyer Institute after it was shut to undergo intravenous treatments, according to the documentary.
Sly, who is the main source for Al Jazeera's explosive claims, quickly recanted the story as well saying he had "made up" the information he gave to Collins. He posted a video on YouTube denying the allegations and also explained himself to ESPN. Sly said he was "testing" the undercover reporter by naming "names like Peyton Manning, Derek Jeter, Ryan Howard and James Harrison." Sly said he wanted to know whether Collins "had any idea of what he was talking about" but recanted as soon as he "realized Al Jazeera was using a secret taping and Collins as a so-called investigative reporter."
In the documentary, Sly also mentioned Philadelphia Phillies first baseman Ryan Howard, Washington Nationals infielder Ryan Zimmerman and boxer Mike Tyson, saying they had all received shipments of HGH. Other athletes that the documentary connects to illegal performance-enhancing drugs, and who allegedly received a new drug known as Delta-2, include Pittsburgh Steelers linebacker James Harrison and Green Bay Packers linebacker Mike Neal and his teammate Julius Peppers. Harrison, Zimmerman and Howard all rejected the claims when they were contacted by Al Jazeera while Neal, Peppers, and Tyson did not respond when they were contacted by the network.
Although Manning could try to sue for defamation, any legal battle would be an uphill battle. NBC explains:
Because Manning is a public figure, he'd have to prove that the statements were made with "actual malice," which means that the persons knew the information was false or acted with reckless disregard to the truth or falsity of the information. Al Jazeera potentially satisfied that standard by seeking and including a statement from Manning's agent.