Trump: Carson Has to "Explain a Lot of Things"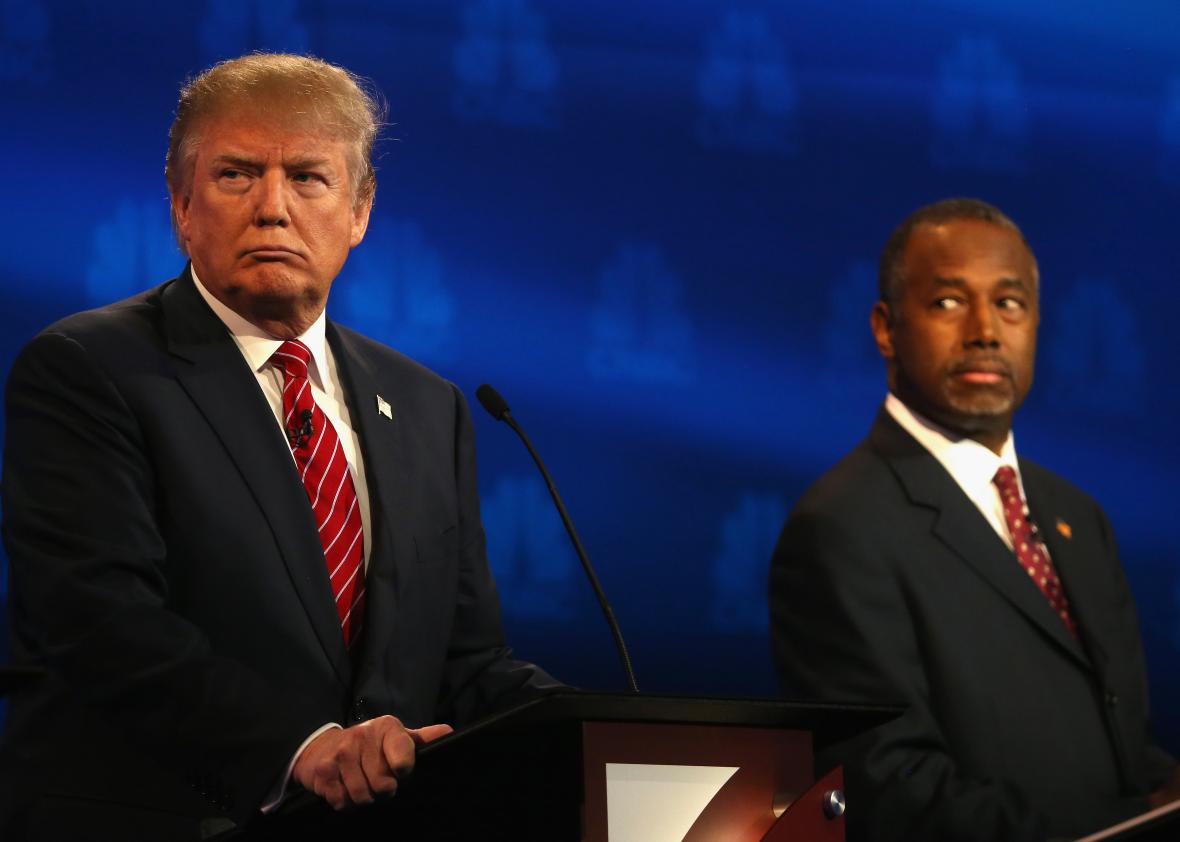 After his decidedly unfunny Saturday Night Live appearance, Republican presidential hopeful Donald Trump spoke to the Sunday morning talk shows and weighed in on the controversy surrounding the accuracy of Ben Carson's previous statements. "I feel badly for Ben, I've gotten to like Ben, it's a tough thing," Trump said on NBC's Meet the Press, adding that Carson is "going to have to explain a lot of things away: the scholarship situation, the dinner with (General William) Westmoreland when Westmoreland wasn't there."
Trump went on four Sunday talk shows and spoke about the increased media scrutiny on Carson, including reports that seem to question the veracity of anecdotes in his autobiography, Gifted Hands. "I just don't know what to think," Trump said on CBS' Face the Nation. "I hope it works out for Ben." On CNN, Trump noted that Carson's story of trying to stab someone in his youth only to be stopped by a belt buckle didn't sound plausible. Still, the problem isn't just the things he said that can't be verified. Trump also said he was concerned about how the retired surgeon described himself because it's "a serious statement when you say you have a pathological disease, because if I understand it, you can't really cure it," Trump said.
"That's something that you have to live with, and that's a very serious thing to have to live with," Trump told ABC.
Carson pushed back against critics on Sunday, telling ABC's This Week that while some details may be off in his autobiography they can't really be considered lies. "Show me somebody, even from your business, the media, who is 100 percent accurate in everything that they say that happened 40 or 50 years ago," Carson told ABC's George Stephanopoulos. "Please show me that person. I will sit at their knee and I will learn from them."
The retired neurosurgeon also says he is facing more scrutiny than any other candidate. "I have always said that I expect to be vetted, but being vetted and what is going on with me —'You said this thirty years ago, you said this 20 years ago, this didn't exist' — you know, I have not seen that with anyone else," Carson told NBC. He sees the scrutiny as recogniion that he is a real contender for the presidency. "There's no question I'm getting special scrutiny," he told CBS. "They've seen the recent head-to-head polling against Hillary and how well I do. And, you know, they're worried. There is no question about it."
Even as he complains of the scrutiny on television, Carson has also said the media attention (or bias, as he says) has helped him raise funds for his campaign.

We the People have made 10,000 donations each day this week, raising $3.5M this week alone. Thank you biased media.

-- Dr. Ben Carson (@RealBenCarson) November 7, 2015