Jeb Bush's Campaign Is Pre-Emptively Warning of Dark Polling Days Ahead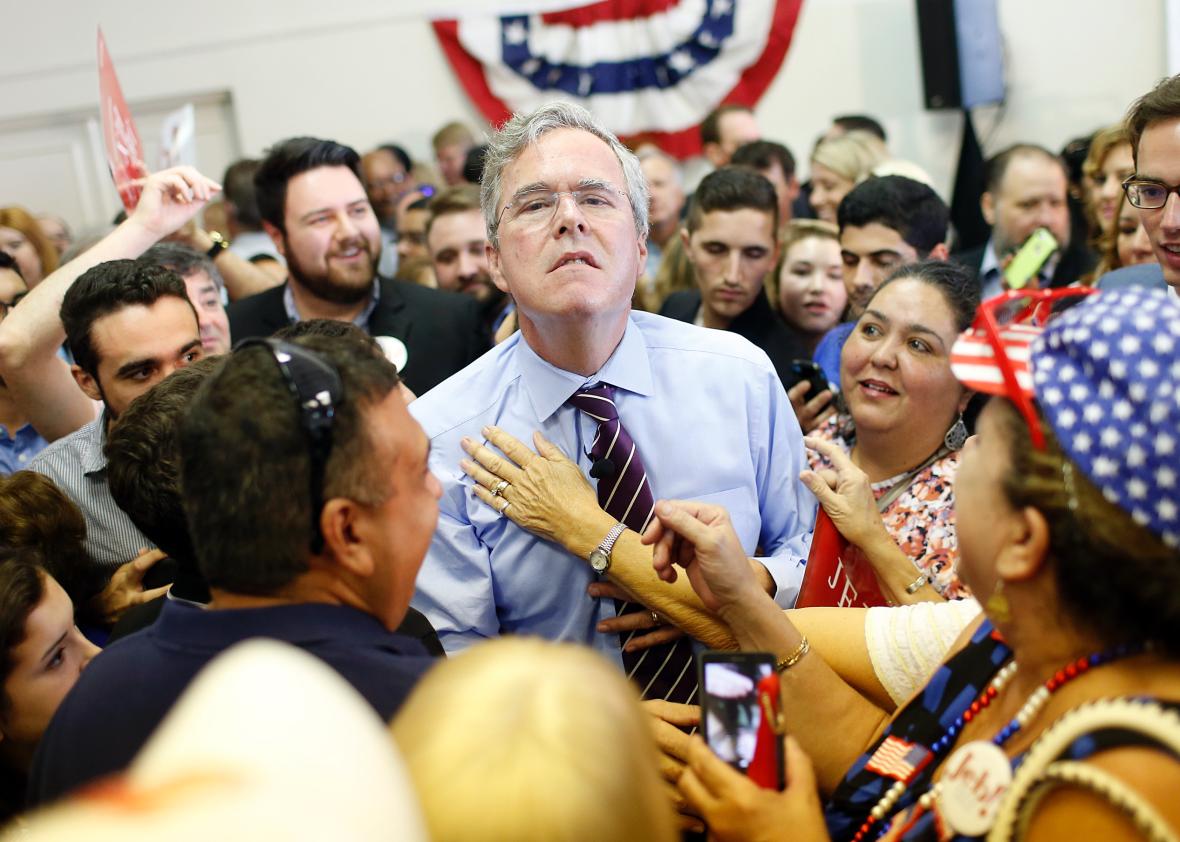 Pundits saw a host of potential winners in last week's Republican debate: Marco Rubio, Ted Cruz, and—in their own unique ways—Ben Carson and Donald Trump, among them. The consensus, though, was not about who won, but who lost: Jeb Bush, the onetime GOP front-runner who was judged to have been so bad on stage that conservatives and liberals alike saw the beginning of the end of his campaign.
And so as Jeb! tries to reboot his campaign for the fifth time, his staff is urging patience, but also indicating that things might get a lot worse before they get better for the Bush campaign:
FYI political press corps. Jeb's going to have a few weeks of bad polls. Comebacks take time, we recognize and are prepared for that.

— Tim Miller (@Timodc) November 2, 2015
The fact that Bush's communication director felt the need to launch a pre-emptive warning is a pretty good sign that his campaign's internal polling numbers paint a pretty dark picture for what's to come. We'll have to wait a bit longer for the first full post-debate national surveys to see what the numbers say about a man who began the year as the de facto favorite for his party's nomination. For now, though, it worth remembering that for all Bush's many missteps in the two months leading up to the CNBC debate, Jeb's numbers held surprisingly steady. Here's a graph of his national polling numbers between Sept. 1 and Nov. 3, as compiled by the Huffington Post:
That chart includes three polls that started surveying respondents before the CNBC debate and ended after it, though the bulk of each survey was conducted before Bush laid an egg on the Colorado stage on Wednesday.* Those polls don't have large enough samples for us to spot a larger post-debate trend, though there may be a sliver of good news for Bush given he held mostly steady in all three. In the latest Wall Street Journal/NBC poll (conducted Oct. 25–29), Jeb was at 8 percent, the same as he was two weeks earlier, the previous time those pollsters asked the question. In the latest Investor's Business Daily/TPP survey (Oct. 24–29), he was at 6 percent, down two points from the same poll taken at the end of September. And the latest Ipsos/Reuters poll (Oct. 24–28) had him at 9 percent, unchanged from the previous week.
Given his debate performance—and, nearly as important, the media reaction to that performance—it would be surprising if dark polling days weren't ahead for Jeb. But for now it's worth remembering that heading into the CNBC debate, Jeb appeared to have found something of a polling floor. We'll find out soon enough whether that bottom is still there, or whether it's finally fallen out.
*Correction, Nov. 3, 2015: This post originally misstated that CNBC's Republican debate took place on Oct. 27. It was held on Oct. 28.